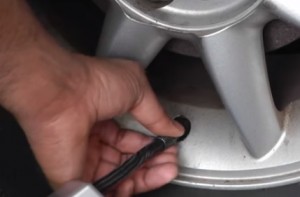 Having a good Portable 12-Volt DC tire inflator with a built-in tire pressure gauge to see the air pressure is ideal in many situations.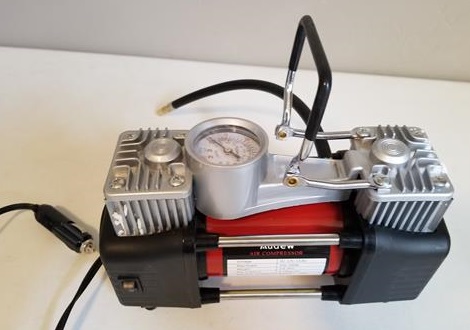 From having a spare tire that has deflated to airing up a bicycle tire having a good working inflator is invaluable.
A 12-Volt unit that can run from the cigarette lighter or hook directly to a vehicle battery is also a good to have.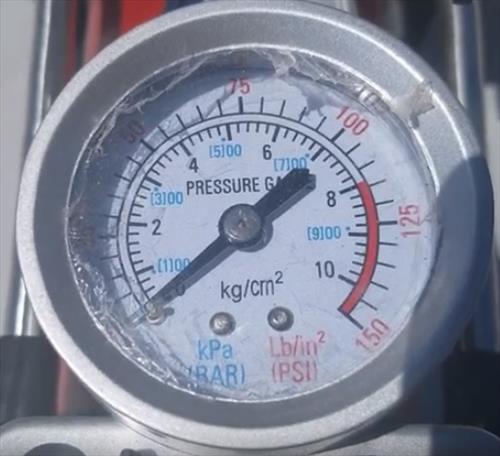 While household 115-volt AC units work good they are not very portable with 12-Volt DC units easy to pack up and use almost anywhere.
There are many units available with some of our favorite picks below.
As always be sure to read the reviews on Amazon, forums, here, or elsewhere to be sure a unit is a good fit for you.
*This post contains affiliate links.
Our Picks for Best Portable12 Tire Inflator With Built in Gauge
Audew Dual Cylinder

Audew Air Compressor Tire Inflator – 12V Heavy Duty Portable Wheel Air Pump for Car Tires – The Most Durable and Reliable Auto Companion, Suitable for Car, SUV, Pickup, Motorcycle, Sports Balls

The Audew Dual Cylinder 12 Volt Air Compressor is a nice unit that is a good fit for small jobs.

It fits nicely in the trunk of a car for emergencies or to simply air up a soccer or basketball.

All the attachments are included with the unit such as air needles and screw-on hoses for tire stems.

The Audew can take power from a cigarette lighter outlet or with clips to a 12 car or truck battery

The top has a nice gauge to show the air pressure.

It also has a flashlight on the front for an emergency light if needed.


Kensun 12 Volt Air Compressor

Kensun Portable Tire Inflator Pump, AC/DC for Car 12V DC and Home 110V AC, Portable Air Compressor Pump with LED Light, for Car Tires, Bike Tires and Other Inflatables

The Kensun air compressor is a good pump to have around a home or in a vehicle.

It runs from either 120 volts AC or 12 Volts DC power.

Everything fits into a nice carry bag and it comes with accessories for tires and inflating balls, such as footballs for soccer balls

It can pump up-to 40 PSI of air pressure and the gauge measures up-to 250 PSI.


The Kensun is a good low-cost unit that is good in an emergency or anytime an inflator with a gauge is needed.


P.I. Auto Store Premium

P.I. Auto Store Premium Air Compressor Tire Inflator for Automobiles and Bikes. Portable 12V DC Electric Car Tire Pump, Auto Shut Off, Digital Pressure Gauge, LED Light. New Improved Version

This small air pump is a 12-Volt DC unit that can pump up to 30 PSI.

It has a digital display to show the air pressure.

A carry bag is also included to keep everything compact and easy to store.


LifeLine AAA

Lifeline AAA 300 PSI 12 Volt DC Air Compressor

The LifeLine AAA is a 12-Volt DC compressor that can add air pressure easily and quickly.

It is a compact unit with the air pressure indicator built into the top.

It is a nice low-cost unit that if your on a budget may be worth a look.

Summary
Having a compressor that can air up objects is something that is not thought about until it is needed. Then when it is needed it becomes a rush to find one.

Having a good unit that can be stored away compactly until it is needed is the best option in most cases.

The right tools for the right job is always a life-saver when needed.