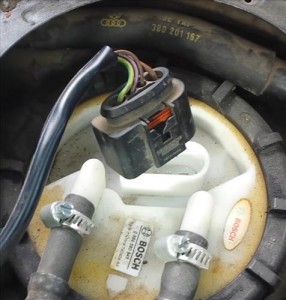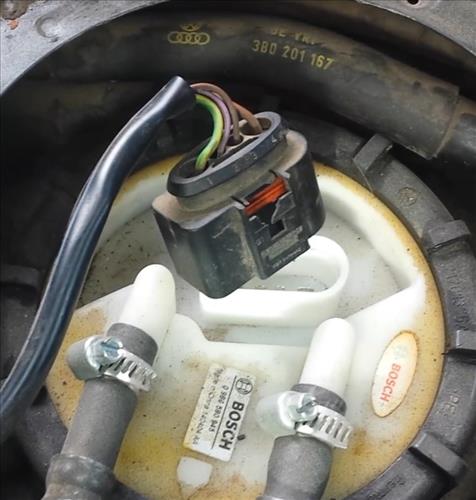 Recently a friend had a fuel pump problem on a 2004 Passat. At first I was ready to simply swap in a new one until I seen the price, plus a special tool is needed to push it in and out. So I wanted to be sure the fuel pump was bad before swapping in a new one.
After reading online in various forums I found this can be done with a multi meter and another person to turn the car ignition.
This is a two step process.
First we want to be sure the correct voltage is being sent to the pump.
Second we will test the fuel pump itself.
The first thing to do is get access to the fuel pump which is in the trunk. There are three screws to remove with a Phillips screw driver.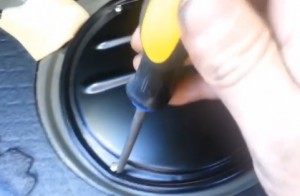 Locate the Fuel Pump plug and remove it.

The fuel pump needs to get the correct voltages or it wont work.
Pins 1 and 4 on the plug (outer pins) are tested with a multi meter set to DC voltage.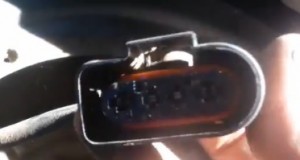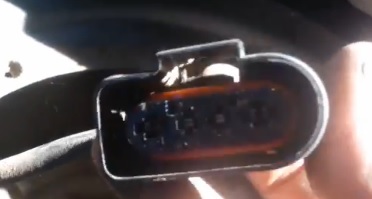 Another person will need to turn the key to accessory and the start position while you are watching the meter.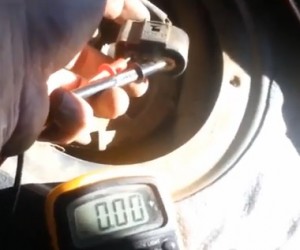 This is what the voltages should read at the plug wiring harness.
With the key in accessory it should read 3-4 volts DC
When the car is cranked on and trying to start it should read 11-12 volts DC
If you do not get the above voltages than most likely a problem is in a relay or in the wiring going to the fuel pump.
Here is a video I made showing how its done.


How to Test The Fuel Pump Itself
The plug should be off the fuel pump and leads exposed.
Set a multi meter to read resistance (200 Ohms).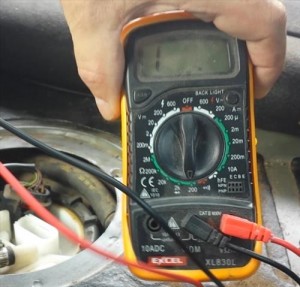 Pins 1 and 4 on the fuel pump are the contacts to test resistance on.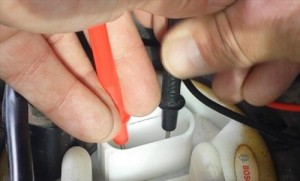 0 resistance = Bad fuel pump
1-3 ohms = Good fuel pump
High resistance = Bad fuel pump
Here is a fuel pump that has just been replaced and is good reading 2.7 ohms.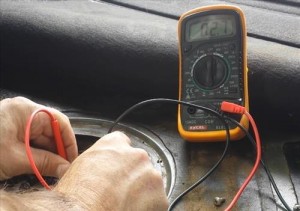 Here is a video I made showing how to test the fuel pump.


Replacing The Fuel Pump
A special removal tool is supposed to be used with Volkswagen fuel pumps to remove them.
Here is the special tool on Amazon
Baum Tools 3307 Volkswagen and Audi Gas Fuel Pump Removal and Installation Wrench
I didn't know a special tool was needed and only found out after the pump I ordered came in. After playing with it for 2-3 hours hands covered in gas I finally got it in without the tool.
If I ever have to do it over I would definitely order the tool as I did almost break it trying to get it in.

Summary
Hopefully if you have a problem with a fuel pump in a Volkswagen Passat this will help you out.
I did save a lot of money doing it myself as a garage would have charged at least $700-$800 to do a swap out.
Here is the Fuel Pump on Amazon
Bosch 69733 Original Equipment Replacement Electric Fuel Pump