The process of locating a electrical short can be difficult, and time consuming. By using this simple test light method, you can narrow your search dramatically. This process will save you time and money.

Here is how to find a short on most vehicle using a 12 volt test light.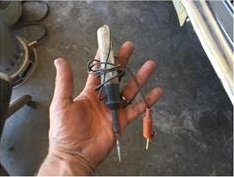 12 Volt Test Light on Amazon
ATD Tools 5513 Heavy-Duty Circuit Tester


Signs of a Short
1… Low voltage when trying to start your car. (longer cranking time).
2… Lights dim while cranking the engine over.
3… Needing a jump in the mornings, or when the car, or truck has not been started for long periods of time. ( over night )

If you have any or all of these symptoms, you could have a short.

Now using just this simple test light, you can locate most shorts.

First disconnect the ground battery terminal. Clip the end of the test light to the negative side of the battery. You may need to use a clamp to hold it into place.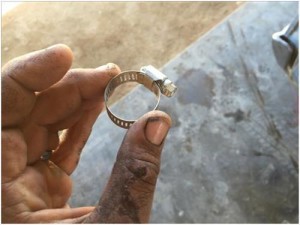 Second put the other end of the test light on the negative terminal wire.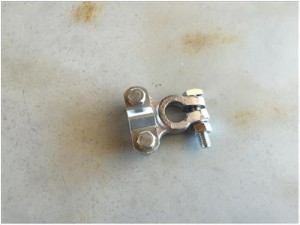 If you have a short, the test light will light up.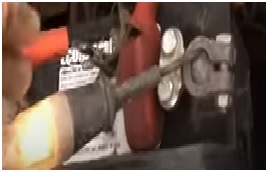 This picture shows the use of a second battery terminal being used as a simple clamp.
Third, open up your fuse panel.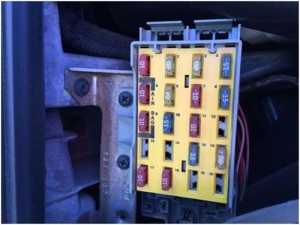 Now one by one, pull a fuse. As you pull one fuse look at the test light. If the light stays on, replace that fuse. Then pull another.

Again if the light stays on, replace that fuse as well. Continue pulling, and replacing your fusses until the light goes out.
Lets explain an example.
If you pull a fuse and the light goes out. This will be the circuit that will have the short. Look next to where you pulled the fuse. There will be a number.
Let's say the fuse you pulled out has a number 15 next to the holes, then the short will be on circuit 15. Now flip over your fuse box panel cover.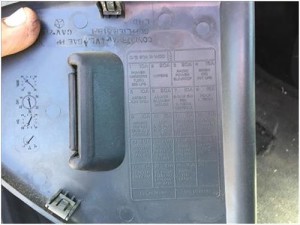 After flipping over your fuse block panel cover, you will see the numbers in order. Locate your fuse number, in this case the circuit number 15. Next to the number 15 you will see the circuit name.

An example would be, 14 tail lights, 15 cigarette lighter. So now we know, because the light that went out was fuse number 15, and fuse number 15 is the fuse for the cigarette lighter. Therefore the short is in the cigarette lighter or the wiring for the cigarette lighter.

Be sure to follow the wiring, looking for any melted areas on that wire, or look inside the cigarette lighter for any type of melting.

This process will narrow your search from hundred of wires, to possible one wire in minutes.

Some items that could cause a miss read are as followed.
1… Your door light is on.
2… Your radio clock is on.
3… Your key is on, or on the accessory (backwards key position).

You can simply run this route backwards if any of these things stay on.

Simply look at the fuse box cover and remove the fuse for those items, while performing this test.

If the radio shows fuse number 26, then remove fuse number 26, until the test is over. Then replace it with the same fuse.
When removing two or three fuses, you may remove a blue fuse ( 10 amp) and a brown fuse ( 5 amp) when removing multiple fuses it is mandatory they go back where they came from. You do not want a 30 amp fuse in a 5 amp location.
To avoid this issue, either write it down, or simply take a picture of the fuse box before removing any fuses.
So in short, disconnect the battery, connect the test light to the terminal and the battery. Pull fuses one by one, until the light goes out.
Follow the fuse box cover number to the name of the circuit. Then follow the wiring, and replace anything that is melted.






Common Vehicle Electrical Shorts:
1… Cigarette lighters (We tend to over load this circuit with our gadgets)
2… Busted lights ( if this is the fuse, check for any broken light)
3… After market radios
4… After market amplifiers
5… Any wires that hang low around your feet area of the car.
Use your 2 major senses when trying to locate the issue.
1… Smell for burnt wires
2… Look for things that are melted

75 percent of your shorts you can locate yourself. Some mechanics will tell you that you should never disconnect your battery terminal because the computer will lose its memory.
Do not be afraid to disconnect the terminal. The computer will reset. The computer will do so just as if your battery was bad and you needed to replace it. However you may need to reset your clock, and reprogram all your favorite radio stations. Do not leave a short, hoping it will go away. This issue can cause harm to your car, and yourself. Fixing a short keeps your family and friends safe, and makes a happy car.
Remember if in doubt take your car or truck to a professional.