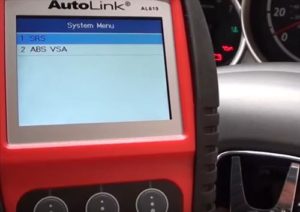 Having a good OBDII scan tool with ABS (Anti-lock Brake System) is a nice thing to have when troubleshooting ABS vehicle problems.
There are many ABS OBDII scan tools available from low-cost to high-end units.
Everyone will have a different requirement from an automotive scan tool. For example, a DIY mechanic will not have the need for an expensive top-end unit like a busy shop mechanic.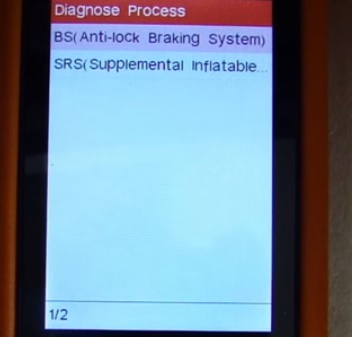 There are also many units that will give the engine codes for troubleshooting but most will not give codes for the ABS system.
Below is our picks for OBDII scan tools that give codes for engine malfunctions as well as ABS and SRS information.
There are many units available with some of our favorite picks below.
As always be sure to read the reviews on Amazon, forums, or elsewhere to be sure a unit is a good fit for you.
*This site contains affiliate links for which a commission is earned.
Our Picks for Best OBDII Scan Tools with ABS
FOXWELL NT630 Plus

The FOXWELL NT630 Plus is a very good low cost option when troubleshooting ABS brake systems.

It can bleed the ABS pump and valves on most vehicles, along with reading and erasing ABS codes.

It also has options for Air Bleeding, Reset Memory, Signal Check, and Test Mode.

The FOXWELL NT630 Plus is a good option when fixing ABS brake systems, SRS airbags systems, and Steering Angle sensors.

INNOVA 6100P

Innova makes many good scan tools including the 6100P SRS ABS OBDII Scan Tool.

It is a good unit that has no problems reading and clearing ABS codes as well as SRS errors.


I recently received one to review and tested it on a 2012 Toyota Corolla that had the ABS Traction light on that would not go off.

The unit pulled up the code C1422 Master Cylinder Pressure Sensor Zero Point High.

Several other scan tools I have used have not been able to read the codes with the Innova 6100P working well and quickly pulling up the ABS OBDII errors.

It had no problems reading the ABS error codes and erasing them.

The unit also has other advanced features such as SRS, oil light reset, charging system monitoring, freeze frame, and more.

Currently, this is my go-to unit for ABS SRS errors with it working very well on many different vehicles models and manufacturers.

The Innova 6100P is a good unit that works well with many advanced features and will have no problems reading and erasing ABS OBDII codes.

Read Full Review Here on the Innova 6100P


Autel AL619

The Autel AL619 is a popular scan tool that gives engine, SRS Airbag Faults, and ABS codes.


The menu has a nice layout making it easy to navigate around.

It has a lot of nice features such as erasing codes and live data.

The ABS menu will pull up what type of vehicle it is for example Asian, European, or the USA.


The interface also makes finding the make and model of a car or truck easy to do.


The System Menu has SRS and ABS VSA options.


It gives the ability to Read Codes, Erase Codes, and ECU Information for the ABS system.

The Autel AL619 is a nice diagnostic tool that can save a DIYer a lot of money.


ANCEL FX4000

The ANCEL FX4000 is a unit that also has a lot of functions including ABS.

It can scan for ABS or transmission codes and gives a lot of information.

The live data works nicely both while driving and at a stand-still and is good at troubleshooting bad sensors.

It does not have a touchscreen and uses the button to move around the interface but cost less than comparable models with a touchscreen.


Launch CRP129E

The Launch CRP129E is a very good OBD2 scan tool with a lot of features including ABS.

It works on any USA vehicle 1996 and newer as well a European 2000 and newer.

The menu is well laid out making it easy to find sections including Engine Electronics, Transmission Electronics, Brake Electronics, and Airbags.

Besides ABS is also can clear traction lights as well as functions for SRS, ABS, ATF, PGM-FIEPB, SAS, and Oil Service Light.


Innova 3150f

The Innova 3150f is an OBDII scan tool that has ABS and SRS features.

After plugging it in and turning the ignition on, it will automatically find the information on a vehicle.


The System Menu section has Global OBD2, ABS, and SRS options.


The main menu has options for System Tests, Vehicle Information, Oil Reset, DLC Locator, Battery Reset, Battery Alternator Monitor, Trip Cycle Procedures and more.


It will display an error code along with a summary of the problem.

The Innova 3150f is a good scan tool with a lot of built-in features. Of course, be sure to read the comments and reviews to be sure it will work with your vehicle.


Cen-Tech OBDII With ABS


Available Here on eBay
The Cen-Tech OBDII is another popular scan tool that also has ABS support.

It can also scan engine codes for any problems that may occur.

I recently used it on a Chevy which had a C0252. (C0252 is the Active Brake Control Sensors.) Without an ABS tool like this, I never would have been able to find it on my own.

It is a good unit for a backyard mechanic or the average DIY'er.

OTOFIX D1 Lite

The OTOFIX D1 Lite is an advanced scan tool that can not only read ABS codes but do much more.

A Bi-directional scanner means it can read a vehicle ECM/PCM and also send commands back.

Most will have no need for such an advanced scanner, but if you are a busy DIY mechanic it might be worth a look.

Read Full Review of OTOFIX D1 Lite Here

OBDII ABS Scan Tools Comparison Chart

| Name | Type | READ/ERASE CODES | ABS Options |
| --- | --- | --- | --- |
| FOXWELL NT630 Plus | Stand-alone | Yes | Yes |
| Innova 6100P | Stand-alone | Yes | Yes |
| Autel AL619 | Stand-alone | Yes | Yes |
| ANCEL FX4000 | Stand-alone | Yes | Yes |
| Launch CRP129E | Stand-alone | Yes | Yes |
| Innova 3150f | Stand-alone | Yes | Yes |
| Cen-Tech OBD II | Stand-alone | Yes | Yes |
| OTOFIX D1 Lite | Stand-alone | Yes | Yes |

What is ABS (Anti-Lock Braking) System?

ABS (Anti-Lock Braking System) is a system to help stop a vehicle tires from locking up and skidding.

When a car or truck skids it loses control of the steering and can result in an accident.

While an experienced driver will usually let off the brake preventing a lock-up of the steering new or inexperienced drivers can benefit greatly from ABS systems.

Benefits Of ABS (Anti-Lock Braking System)
Vehicles with ABS are less likely to be involved in a crash.
ABS Gives a driver better control, especially on wet or snowy roads.
ABS gives better control to a driver making for a safer trip.
A vehicle with ABS has more control of the vehicle resulting in fewer accidents and better steering.
Can a Vehicle Still Operate Without ABS?
If there is an error most vehicles will default to the older style of brakes before ABS was introduced.
Any vehicle with the ABS light on should use an OBD2 scan tool to find the problem.
While a vehicle may seem OK to drive if there is an error in the system it needs to be found and fixed.
How To Find an ABS (Anti-Lock Braking System) Error?
A scan tool with ABS features built-in needs to be used to scan for errors.
Most scan tools do not have ABS diagnostics built-in so be sure it is listed on a scan tool specifications.
How is an ABS OBDII Scan Tool Used?
All vehicles 1996 and newer have an OBDII port to communicate with the onboard computer.
The onboard computer holds any errors in a code which can be read and interpreted by an OBDII scan tool.
The OBDII port is usually located underneath the driver side dashboard and a scan tool is simply plugged into the port.
A scan tool can communicate with the vehicles onboard computer reading and clearing error codes.
Summary
There are many good OBDII scan tools that can save a user a lot of money reading and clearing error codes.
The error codes guide you to the problem and when combined with many online sources such as YouTube or forums the problem can usually be quickly found and fixed.
Keep in mind if a code is erased it more than likely will come back if the problem is not fixed.
OBDII is built into all cars made after 1996 and newer vehicles and a good tool will work with most all makes and models of cars and trucks.
An easy to use interface is also a requirement, at least in my opinion, as there is nothing worse than struggling to find options in the unit.
Also, keep in mind that units that have ABS are more expensive than a basic OBD2 with many low-cost options.
Of course, be sure to read reviews on Amazon or other sources to be sure it will work with your vehicle and do what you need it to do.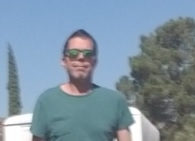 Latest posts by Bob Thomas
(see all)