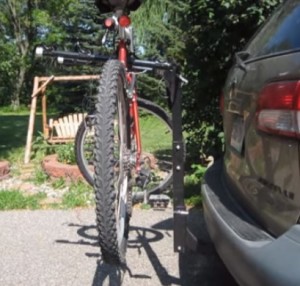 Hitch mounted bike racks have an advantage over trunk and top mounted racks in that they dont let a vehicle get scratched easily.
Many trunk racks are located too close to a car or SUV and can lead to contact with the paint, and dont let you open a trunk.
Hitch racks have more space between them and the vehicle which helps eliminate this problem .
A hitch rack will need a hitch so if one is not installed than getting a hitch will be necessary.
Bike racks on the hitch do add to the length of a vehicle but this is usually not a problem for most.

Our Picks for Best Bike Rack Hitches
Allen Sports makes many bike rack styles along with this popular hitch model.
It can fit any vehicle car, truck, SUV that has a 2-Inch Receiver installed.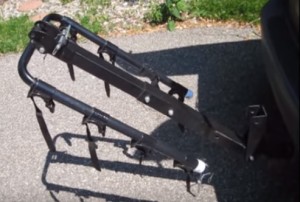 Up to four bikes can be carried at a time with folding arms to tuck it away when not in use.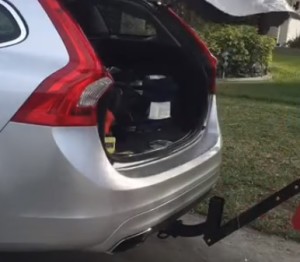 If you need to get into the trunk it can lean out away giving space to get access.
One bike is not a problem to lean the rack out but when many bikes are loaded it gets heavier which requires a good push to get it back into place. For this reason if you plan to max it out with four bikes it will be difficult to get into the trunk, at least without help to push them back up and lock the pin in.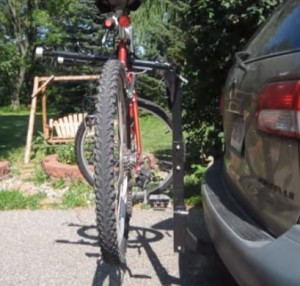 Overall a very nice unit and does what it supposed to do at a good price.

…….
This Pro-Series 63124 can carry up to four bikes.
Installing the unit is easy enough by inserting it into a 2 inch receiver.

As with most hitch units it can lean away from a vehicle to allow trunk access. Again the weight is a factor and bearing force on the pin makes it hard to pull it out when many bikes are loaded up.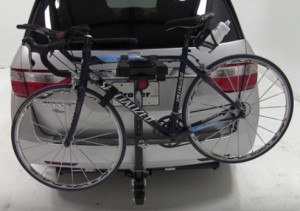 If you have help to push them up than this is not an issue but for those by themselves pushing the weight of multiple bikes will be hard.
For this reason unless you have help it is best to not access the trunk unless you have someone to help get everything back in place.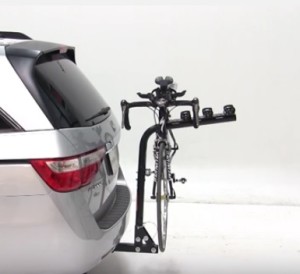 …….
This TYGER Deluxe unit is very sturdy unit.
Like other units it tilts down for trunk access.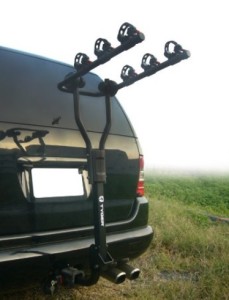 Summary
Always consider that a bike rack adds to the size of a car when driving.
While rear mounted units are often easier to drive with they do extend the car, truck, or SUV in length.
Also be sure to measure the hitch that is installed to be sure it will slide into place and fit correctly.
While most units use a 2 inch hitch it is always best to double check.
As always be sure to read the reviews on Amazon or elsewhere to be sure a unit is a good fit for you.