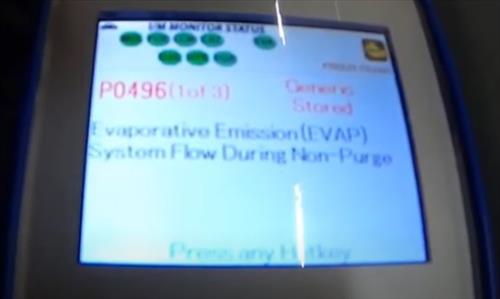 If you have a GMC Acadia with a P0496 error code, the onboard computer (ECM) is seeing a problem with the EVAP system.
A GMC P0449 OBDII error code is listed as "Evaporative Emission (EVAP) System Flow During Non-Purge."
Common causes include a bad gas cap that is not sealing or purge valve.
Causes and Fixes P0496 Code GMC Acadia
Gas Cap

A gas cap not seated all the way in can cause the Evap system to not work and give an error.

The cap may have gone bad and need to be replaced.

Sometimes dirt or grime can cause the cap to not make a good seal.

A rubber seal inside the cap may also have become old and broken.

The gas cap is often replaced to rule it out as a possible problem, but if it looks good, the problem may be elsewhere.

Purge Valve


The purge valve can cause Evap issues and a P0496 Code on a GMC Acadia.

The purge valve closes when a vehicle is turned off to prevent gas vapors being released.

When a vehicle is running, the purge valve opens and allows gas vapors to go to the charcoal canister and burn off in the engine.

If the purge valve becomes stuck open or closed, it will cause an issue with the evap system and give the code P0496.

The GMC Acadia has the purge valve located at the front of the engine on the driver-side.


How to Test the GMC Acadia Purge Valve
The purge valve can be tested in a GMC Acadia by unplugging the two connections, starting the vehicle, and seeing if there is a vacuum.

Unplug the two connections, the electrical and the hose.


Use a small piece of paper or something similar to see if there is a vacuum on the top hose connection.

If there is a vacuum that pulls on the paper, the valve is stuck open and needs to be replaced.

Replacing the purge valve in a GMC Acadia is easy to do as they snap in and out of a bracket.

Replacing a purge valve is a DIY job done by many but if in doubt, be sure to take your vehicle to a professional.

A new purge valve can be bought at an auto parts store or online on Amazon or eBay.

Example GMC Acadia Purge Valve on Amazon
Dorman 911-079 Vapor Canister Purge Valve Compatible with Select Models

GMC Acadia Symptoms of a P0496 Code
Check Engine Light On
Long Start Time
Rough Idle
Often there are no issues with a P0496 Code, but the engine light will come on, and the vehicle will not pass an emission test.
In some cases, some people have reported long start times and rough idle.
Summary
The GMC Acadia is a good vehicle that, like any vehicle, can have problems as it ages.
One such problem is the OBDII error code P0496 which points to an Evap problem.
In some cases, the gas cap may not be sealing well and causing the issue.
In the majority of cases, the purge valve has gone bad and needs to be replaced.
Replacing the purge valve on is easy to do ad there are no bolts with is simply snapping out of a bracket.
Have you had issues with a GMC Acadia and a P0496 error code? Let us know your thoughts below.