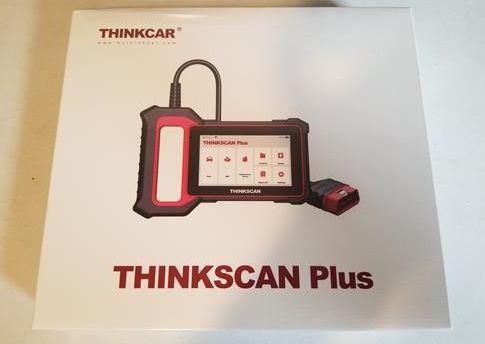 The ThinkScan Plus S4 is a new OBD2 scan tool for 2021 with many advanced features and options.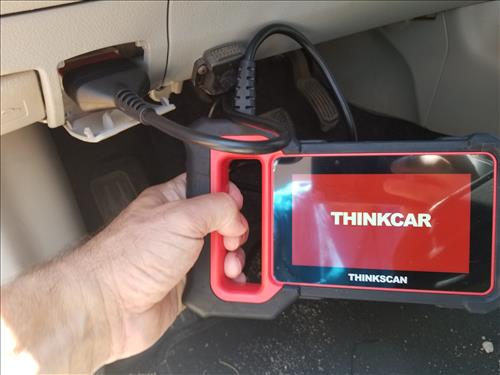 The unit runs Android 7.0, has a 5-inch touchscreen along with a handle to easily carry it about.
It can connect to almost any vehicle, both foreign and domestic, with features such as reading SRS (Airbag), ABS (Anti-lock Brakes), Evap Test, Gear Box Reset, Sunroof Reset, and much more.
*This unit was sent to me to review with my honest opinion and results below.
Specifications and Features
Android 7.0
Touchscreen
8GB Storage
WiFi
One-Click Updates
Gear Box Reset
Sunroof Reset
EVAP Test
BCM (Body Control Module) Test
ABS (Anti-lock Brakes) Diagnoses
SRS (Airbag) Scan
Screen Shot and Record
Live Data Stream
ThinkScan Plus S4 Overview
The package comes with the ThinkScan Plus S4 scanner, Type-C power cable, and user manual.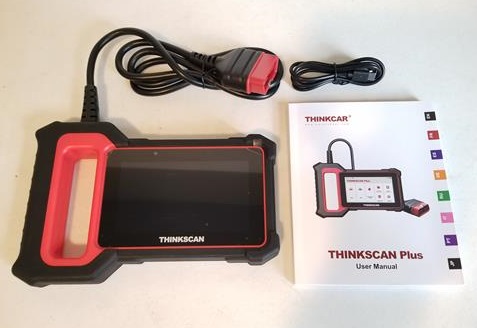 The unit is built very well with a 5-inch screen and a handle grip for carrying about.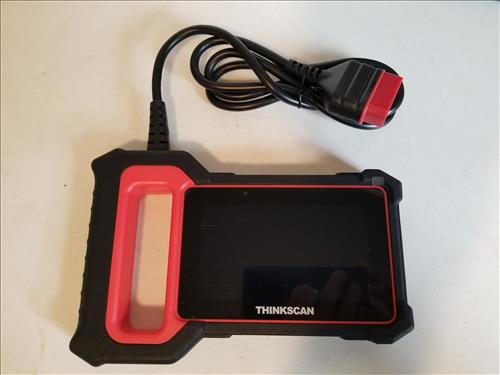 The side of the unit has the power port and SD-card slot behind a water resistant tab.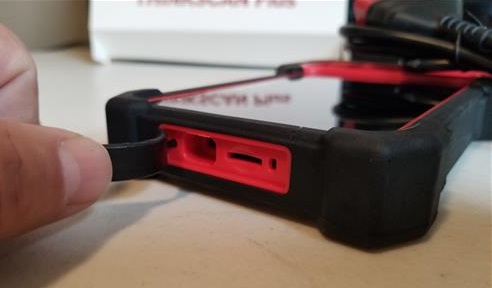 Plugin in the unit, it automatically powers on and brings up the WiFi connections.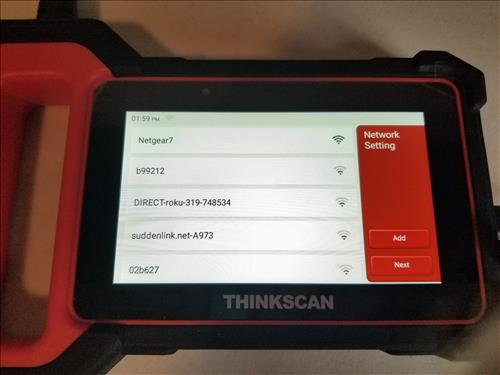 The touchscreen screen makes it easy to chose options and move about.
Menu Options
The main menu has options for Scan, OBD, Maintenance and Service, Think Store, Update, Think File, Repair Info, and Settings.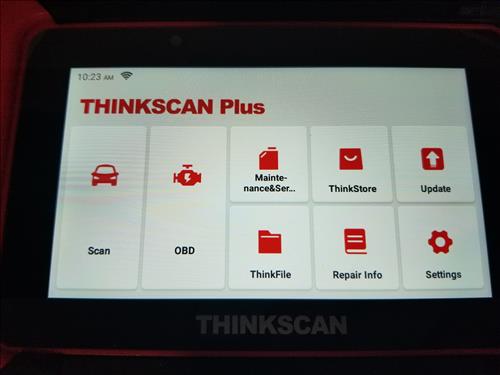 Pulling down from the top of the screen will give options for screen brightness as well as screenshots and video.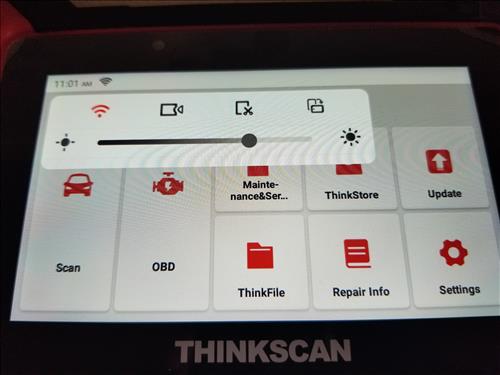 The Scan section will bring up multiple car and truck manufacturers.


When using this option, the unit will need to be connected to a vehicle's OBDII port.
The Maintenance and Service section has modules that can be installed with three for free.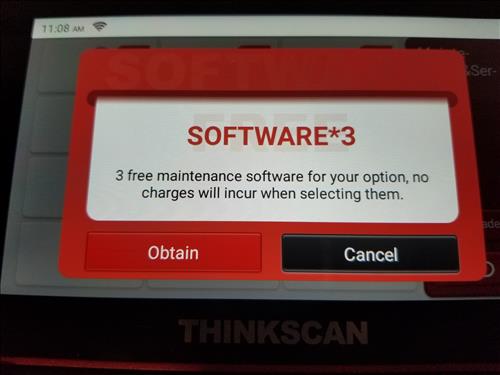 This includes ABS Bleeding, Battery Matching, Brake Reset, DPF Regen, Electric Throttle Relearn, Oil Maintenance Reset, steering Angle Reset, TPMS (Reset), AFS Reset, ADBLUE Reset, A/F Reset, SUS Reset, Coolant Bleed, Gear Learn, EGR Adaption, Gearbox, IMMO, Injector, Language Change, NOx Sensor Rest, ODO Meter, Seats Calibration, Stop/Start Rest, Sunroof, Transport Mode, and Windows Calibration.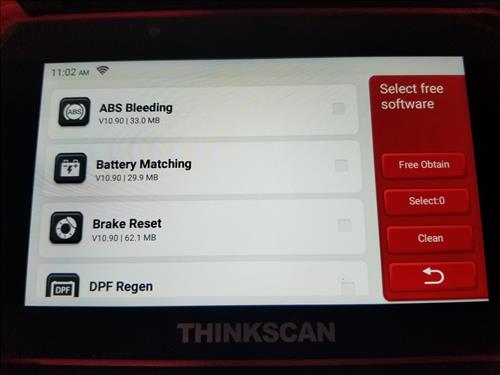 The Settings section has options for Screenshots, Photo Album, Screen Floating, Screen Recorder, Network, Brightness, Unit of Measure, Language, Time Zone, Sleep time, Firmware Fix, Diagnostic Software Clear, Clear the Cache, Clear data, Reset, Help, App Update, and About.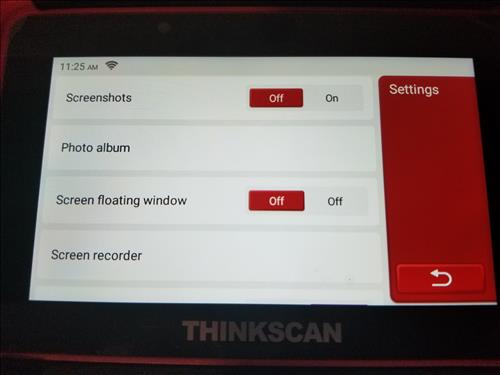 ThinkScan Plus S4 Updates
Getting updates is easy by selecting updates from the main menu.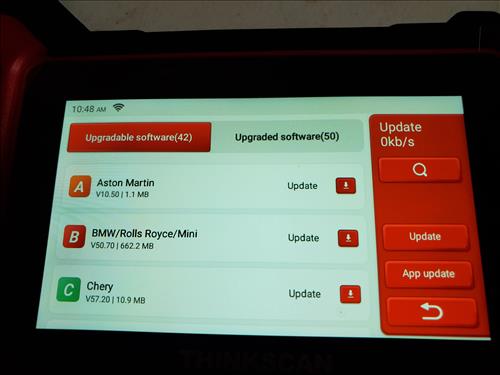 Specific individual module can be selected for download.
Selecting App Update will show updates from the units main sections.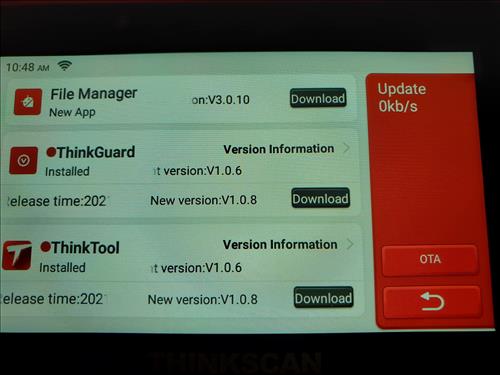 Scanning for OBDII Codes and Errors
Scanning for codes is easy by plugging it into the vehicle's OBDII port, usually under the dashboard.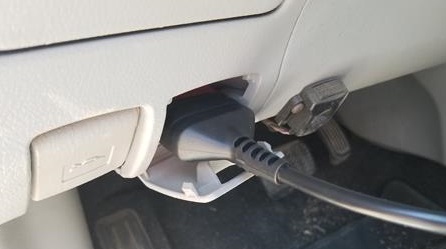 The ThinkScan Plus S4 automatically powers on when plugged into the OBDII port.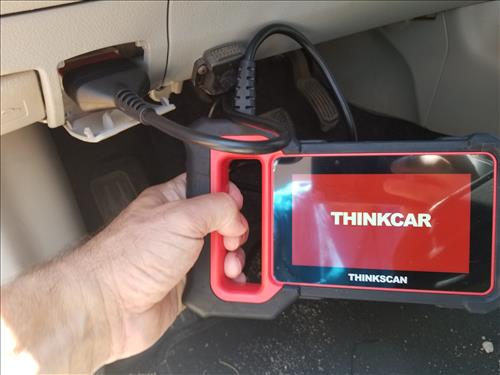 The menu will display with the options choosing Scan or OBD will connect to the vehicle's computer.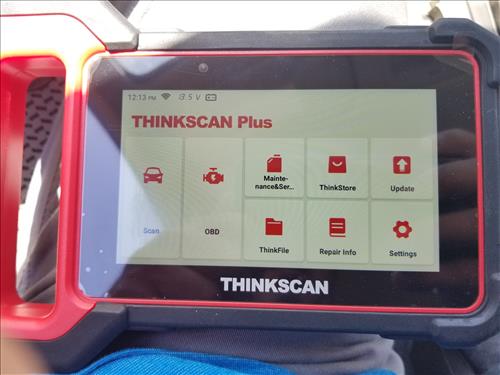 I tested the unit on a 2012 Toyota Corolla which displayed the information.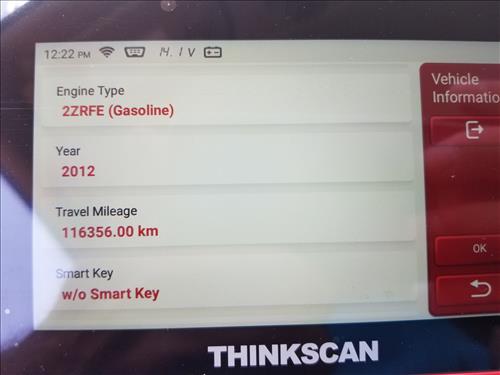 I went into the Health Check option and it found two problems even though the engine light was not on.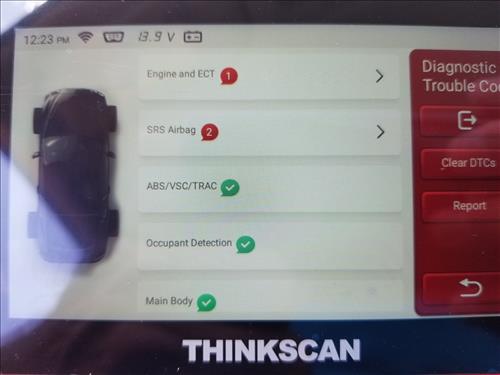 It found two errors with Airbag including code B1620 and Code B1690.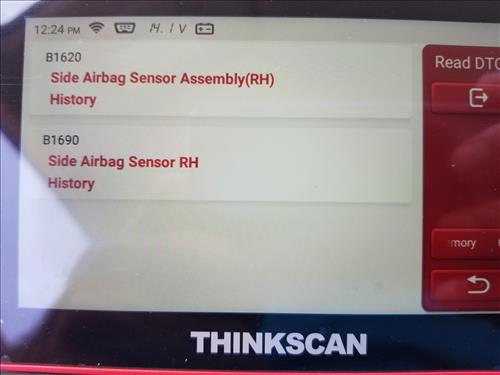 It also found an error P1604 Start-ability Malfunction History.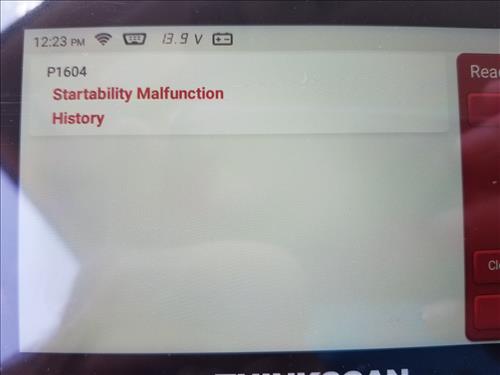 Since the engine light was not on and the car had no problems, I cleared the codes to see if they come back.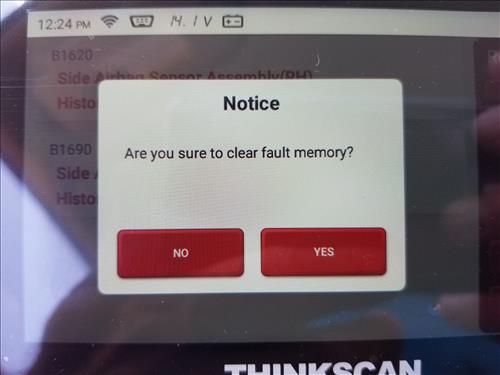 The ThinkScan Plus S4 has many options and features that makes it able to read and clear almost any error code.
*This post contains affiliate links.
Read More Reviews Here on Amazon
THINKSCAN OBD2 Scanner Check Engine Code Readers & Scan Tools Plus S4 Auto Diagnostic Car Scanner with ABS SRS Body Control Engine Transmission System Diagnoses and DIY 3 Reset OBD2 Car Scanner

Summary
The ThinkScan Plus S4 is a great OBDII scan tool that would work well in a professional shop and for the part time mechanic.
It is easy to use and able to read automotive error codes most scan tools can not read.
For example, SRS Airbag codes do not display on most of my other scan tools with the ThinkScan S4 picking them up quickly and clearing them.
The same with other codes such as ABS, EPB Brake, SAS, DPF Regen, GearBox Reset, SUN Reset, ABS Bleeding, TPMS Reset, Oil Service, IMMO Reset and so on
I am still testing the unit so far with good results and will update if anything changes.
As always, be sure to read the reviews on Amazon, forums, or elsewhere to be sure a unit is a good fit for you.