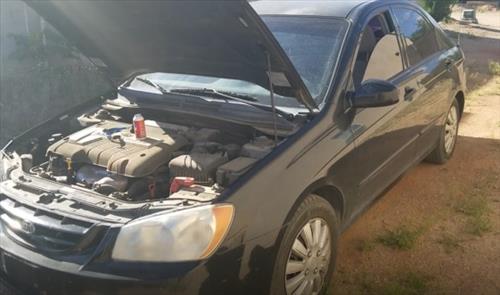 If you own a 2005-2009 Kia Spectra and the air conditioning stops blowing cold air it may need to be recharged.
This is a common problem with older cars with it being a simple fix to add more refrigerant to the system.
I have a 2006 Kia Spectra that needed charge last year so I wrote this post along with a video at the bottom of the page to help anyone who may having the same problem.
Things Needed To Add Refrigerant on a 2005-2009 Kia Spectra
R134a Refrigerant bottle
Fill Hose
The 2005-2009 Kia Spectra uses R134a refrigerant with small low-cost bottles available to buy.
Since I have a slow leak I bought Stop Leak with R134a on Amazon that will charge the system and also hopefully stop the slow leak.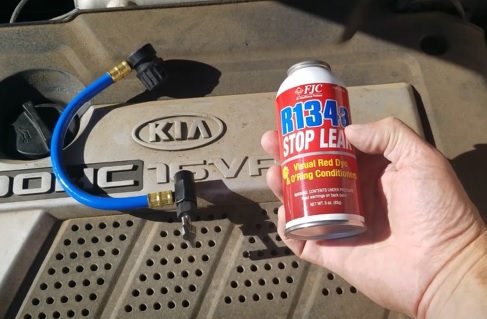 A recharge line will also be needed and is a low-cost item.
*This post contains affiliate links.
Here is the normal R134a bottle on Amazon
ZeroR R134a_ AC Refrigerant_ Top-Kit for MVAC use in a 12oz Self-Sealing Container – USA Made (3 Items)

Here is the R134a with Stop Leak bottle on Amazon
InterDynamics Certified AC Pro Car Air Conditioner R134A Refrigerant Stop Leak Kit, for Rubber and Metal Leaks in O Rings and Hoses, 3 Oz, CERT325-6

Here is a R134a Refill Hose on Amazon
FAVORCOOL R134A Car Air Conditioning Refrigerant Charging Hose kit with Pressure Gauge,1/2 Acme, AC Recharge Measuring U-Hose Can Tap, Perfect for Automobile and Home A/C Freon Charge U-Hose

2005-2009 Kia Spectra Refrigerant Fill Location
The refrigerant is added to a Low pressure side of the cars cooling system.
It is located under the hood on the passenger side up next to the firewall.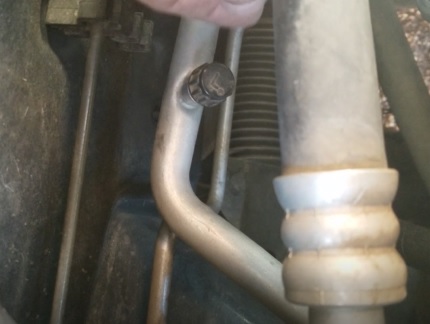 A cap will be on the port that will screw off.
How To Add Refrigerant on a 2005-2009 Kia Spectra
Screw the hose onto the bottle.

Start the car and power on the AC to high

Locate the fill at the high pressure line (big Line) and unscrew the cap.

Attach the hose to the Low Pressure line.

Open the hose adapter letting refrigerant into the system

check the air vent to see if it blows cold air

Stop once cold air blows out by closing the valve on the bottle adapter.
Summary
Recharging the air conditioning system on a 2005-2009 Kia Spectra is easy to do for a handy DIY type person.
Of course if in doubt take it to a professional.
If the car has a slow leak using the Stop Leak with R134a can help to seal a system.
It is not necessary though with standard R134a available in small cans.
Keep in mind other things can cause a AC system to not blow cold air.