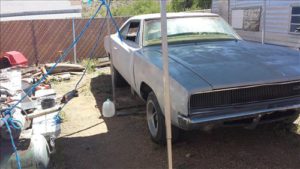 I thought I would update my progress on the 68 Charger project.
After a lot of sanding we got it down to the bare metal to make sure all the rust was gone as much as possible.
It took a lot of time to get the old paint off and the spots of rust that was here and there.
We were able to fix many dents but there is still a lot of work that needs to be done on the body.
Using a Stud Welder Dent Puller comes in very handy in helping to pull out hard deep dents.
I decided that since it is hard to move about and due to limited space it is better to focus on the mechanical and get it running.
After it is running and easily driven about I can go back to the body work and focus on one trouble spot at a time.
All the trim was removed and after sanding Primer Filler was sprayed on along with a clear coat. This is only temporary and to protect the bare metal.
After getting back into the mechanical I found a hole in the gas tank.
Looking online I found another new reproduction tank on eBay for roughly $100 dollars and ordered one.
The drive-line was rusted up from sitting outside for many years and was a pain to clean. Mainly the inside which would no longer slide onto the transmission.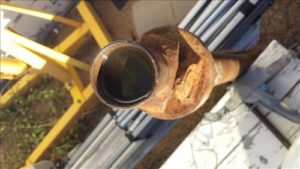 After using a wire brush I left it soak in White Vinegar which removes rust if left long enough.
I let it sit overnight and the next day with a little transmission fluid for lubricant slid into the transmission easily.
The front brakes are another concern along with the old master cylinder.
Since the front brakes are Drums and not Disk I decided it would be best to install new disk brake conversion kit.
I found one on eBay which comes with everything needed for the install and will update how it goes with it.
At first I was slightly hesitant about using a brake kit from eBay but many forums I have read has other users getting good results.
So in short a lot of work has been done and a lot more to go. It is still a lot of fun watching it take shape.
The 360 runs good but is having a spark issue that I still need to solve.
I also have to locate all the new electronic ignition to a better location.