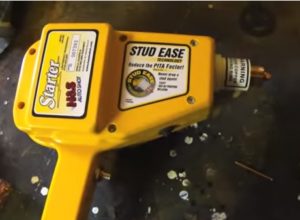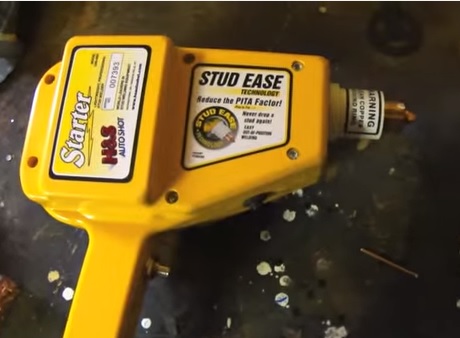 When it comes to auto body work, deep dents are not easy to get out and either need to be hit from the back or pulled out.
Since many dents cant be reached from the back, dent puller options are often looked at as the best method.
One of these methods is called a Stud Welder Dent Puller, which welds a small stud to the metal of a vehicle which is then pulled on to pull the dent out.
If you have no welding experience, not to worry, as there is no skill involved.
Basically, after the small stud is inserted into a unit, a trigger is pulled for 1-2 seconds which melts the small stud into the sheet metal of the car or truck.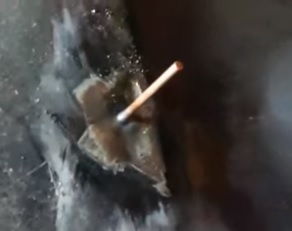 The welded-on stud is then pulled on to get the dent out.
Needing some deep dents pulled, I recently broke down and bought a unit.
The unit I decided on was the H & S Autoshot 4550 Starter Plus Stud Welder Kit.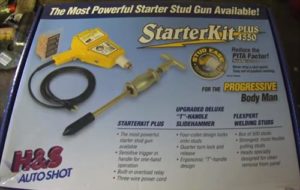 It is a starter kit edition that comes with everything necessary to use a stud welder, including 500 flexport welding studs to get started.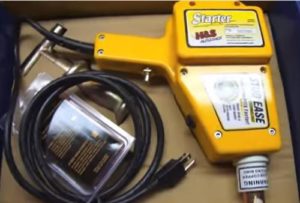 How To Use a Stud Welder Dent Puller
Using a stud welder dent puller is fairly simple; just be sure not to hold it for too long and burn a hole through the metal.
A few practice tests will be best on a piece of old metal
Get one of the studs and insert it into the end of the welder.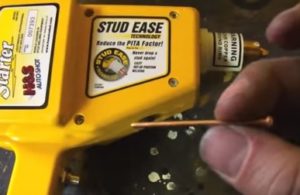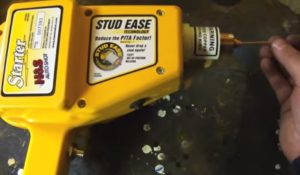 The tip is pressed against metal and held for 1 second, and it welds a stud to it. Don't hold it too long, as a small hole will burn through the metal. Practicing first on old metal would be best.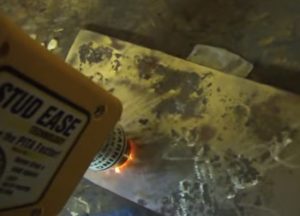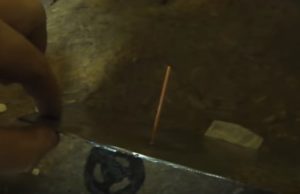 I tested it out and practiced on an old piece of metal before using it on a vehicle.
It really is simple to use; multiple studs will need to be welded onto a big dent to pull it out.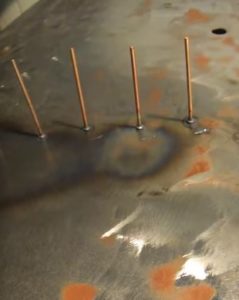 How Well Does a Stud Welder Dent Puller Work?
After you understand the process, it does a good job.
Using an attachment that pulls on the dent is best, in my opinion.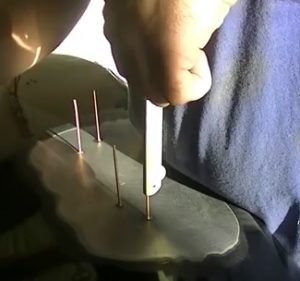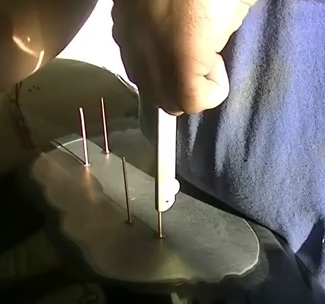 I found that tapping with a hammer around the damaged area and pulling at the same time worked best for me.
Some people use the slide hammer puller that is included in the kit or has one lying around. They have a tendency to pull the studs off immediately, in my opinion. Often it is better to use vise-grips or other tools attached to the welded studs and pull on them to get a dent out.
Again there is no set method, and what works for one person may not work for another. For some, the slide hammer may be best.
As with anything, some skill and practice are necessary to get good at it. It is a straightforward process of welding on a stud and pulling on it to get a dent back out.
The main key is to get a stud to hold to the dent so it can be pulled out. Getting down to bare metal will be necessary, so it can get a good weld.
Read More Reviews Here on Amazon
H & S Autoshot 4550 Starter Plus Stud Welder Kit , yellow

Summary
Using a stud welder dent puller is a good method to remove difficult dents.
I am more than happy with my purchase and plan to get much more use from it.
There are many YouTube videos that show the different methods people have for pulling on a stud, so no doubt you will find a method that works for you.
The H & S Autoshot 4550 is a low-cost budget kit that should work well enough for the DIY auto-body man.
There are more expensive units for those looking for a top-end unit.
As always, be sure to read the reviews on Amazon or elsewhere to be sure a unit is a good fit for you.