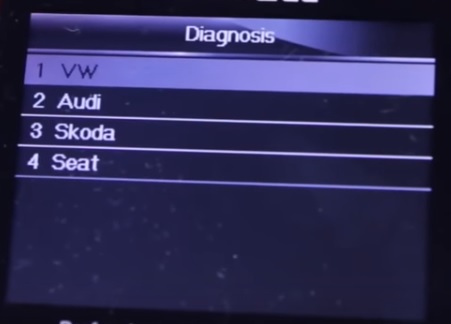 Having a good VAG-COM scan tool can go a long way to help not only find a mechanical problem but to do some light modding.
There are many VAG-COM VCDS scan tools available for Volkswagen, from low-cost units to high-end expensive models.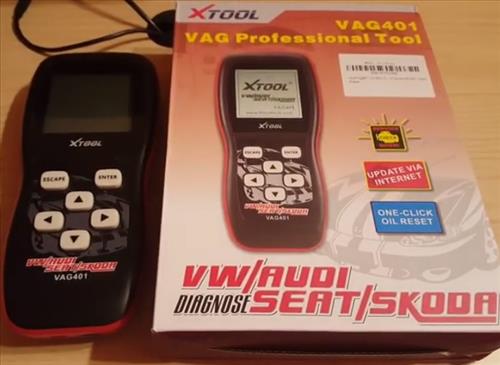 Below are some of our favorite options that would be a good fit for the DIY mechanic or professional.
As always be sure to read the reviews on Amazon, forums, or elsewhere to be sure a unit is a good fit for you.
*This post contains affiliate links.
Our Picks for the Best VAG-COM VCDS OBD II Scan Tools
ANCEL VD500

ANCEL VD500 OBD II Diagnostic Scanner for Volkswagen VW Audi Skoda Seat Diagnosis Check Engine Light EPB ABS SRS Code Reader Oil Throttle Position Adaption Brake Pad Reset Tool

The ANCEL VD500 is a low-cost stand-alone scan tool for Volkswagen's.

For a budget unit it has many good features such as EPB, ABS, SRS, Oil Throttle Position, Adaption Brake Pad Reset, and much more.

It also is compatible with many VW models including Golf, Jetta, Passat, Sharan, Tiguan, Touran, Audi and more.

The ANCEL VD500 is worth a look for anyone looking for a starter scan tool for their Volkswagen


Xtool Vag401

XTOOL Vag401 Code Reader for Vw Audi Seat Skoda Diagnostic Scan Tool

The Xtool Vag401 is another low-cost stand-alone scan tool built to work with Volkswagen.

It has a lot of feature including reset Oil Services, Airbag Reset, Throttle Adaption, Mileage Reset, EEPROM Access and much more.

It is widely compatible with many Volkswagen's from Passat to Audi.

The unit is a good scanner for troubleshooting and has many nice features such as clearing airbag faults, or priming a fuel pump after a filter change.

If doing a mod it only works with long codes in HEX, so you will need to know exactly which byte and bits to modify. This can be done by searching the forums and finding matches for your car and what you are trying to do.


FOXWELL NT510

FOXWELL NT510 Elite OBD2 Scanner Code Reader for Porsche, Full System HVAC 4WD Bi-Directional Scan Tool with Oil Reset EPB SAS TPS TPMS and Battery Registeration etc

The FOXWELL NT510 is a great scan tool for any car or truck including VW owners.

It has a ton of features such as resetting the check engine light, ABS light, SRS airbag light, and much more.

If you need one of the better home DIY scan tools it is worth a look.

The number of things it can read and reset is huge. It is also easy to use and has a very intuitive interface.

There are cheaper options and it may be more than what a home DIY person needs, but is a nice unit to have when a problem comes up.


VAG-COM KKL 409.1

VIMVIP VAG-COM KKL 409.1 OBD2 USB Cable Auto Scanner Scan Tool Compatible with Audi VW SEAT Volkswagen

Of course, no VAG COM scan tools would list would be complete without a cheap low-cost USB OBDII Cable.

A Vag COM cable simply goes from the OBD2 port to a laptops USB port and software is used for VCDS information.

Low-cost cables are basically knock offs of the genuine Ross-Tech cable which cost much more.

The thing to understand with any of these low cost VAG COM cables is they use older version of the Ross-Tech software.

Many have problems with these cables while others use them daily.

Here are some things to keep in mind if a low-cost VAG COM cable is bought.

…It will come with a disc that must be used with the cable.

…Do not update the software or it will not work.

…You will need to disable any virus software to use the program.

…It is best to disable any internet connection so the software does not update.

Of course, all of this can be skipped by buying the Ross Tech version. I know many will not have the money to buy the Ross Tech version and these will come up.

With that in mind they do work when used right.


OBDeleven

OBDeleven Pro Edition Next Generation Professional OBD2 Bluetooth Diagnostic Scan Tool for Android and iOS (Beta)

The OBDeleven is a dedicated VAG COM scan tool that has most all VCDS features.

It is a Bluetooth dongle that Pairs with a smartphone and allows you to check for errors or do modifications.

An app called VAG OBD2 is downloaded from the Play Store to your Android smartphone.

The app does charge extra for features that make it easier to mod a VW.

There is no charge if you can get a bit technical and enter the long codes bits needed to do what is required.

Even though it makes VAG-COM much easier to work with then in the past there still is a technicality to it, unless you want to pay extra for the easy apps.

For example, if you are doing mods be sure to do some research on your vehicle for what mods you actually want done to your car.


If you just want to check codes then it does that very well. The Volkswagen vehicle compatibility is huge, but be sure to read their compatibility list on Amazon to be sure it will work for you.


The OBDEleven is a really nice tool when used correctly along with tons of features and mods that can be done depending on your vehicle.

Best VAG-COM VCDS OBD II Scan Tools Comparison Table


| Name | Type | Read/Erase codes | VCDS Options |
| --- | --- | --- | --- |
| ANCEL VD500 | Stand-alone | Yes | Yes |
| Xtool Vag401 | Stand-alone | Yes | Yes |
| FOXWELL NT510 | Stand-alone | Yes | No |
| VAG-COM KKL 409.1 | USB Computer Cable | Yes | Yes |
| OBDeleven | Bluetooth to Android Smartphone | Yes | Yes |

Summary
There are many good OBDII VAG-COM scan tools for Volkswagen that can diplay VW specific codes.

The above VAG-COM VCDS are simply a few of our favorite options with no doubt many more to choose from.

Each tool has its own positives and negatives which often depending on the vehicle being worked on.

Whichever tool is used there are many good things about using a VAG-COM tool over a standard OBDII. From scanning for engine fault codes to simple modding, they are a nice thing to have.

Do you have a favorite VAG-COM scanner? Let us know in the comments below.
https://www.youtube.com/watch?v=assQOCrID7A