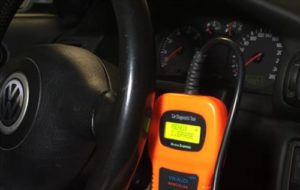 Finding the right OBD II scan tool to work on a Volkswagen Passat is easy enough, with some with more features than others.
One of the things that the VW Passat unique is VAG-COM VCDS which goes beyond industry standard OBDII codes.
All vehicles 1996 and newer have an OBDII port which started with OBD versions 1, 1.5, and 2, depending on how new they are.
OBDII has a set but a limited number of codes it gives out. OBDII is a very useful tool when diagnosing a vehicle, but VAG-COM goes much more in-depth and is specific to Volkswagen.
With VAG-Com, instead of some generic code that points in a general direction, much more detailed information is given for Volkswagen's narrowing the problem down more specifically.
Below is a list of some of our favorite scan tools for the Passat that come with VAG-COM features.
Be sure to read the reviews on Amazon, forums, or elsewhere to be sure it is a good fit for you.
*This post contains affiliate links.
Our Picks for Best OBDII Scan Tool VW Passat (1999 – 2005)
ANCEL VD500

ANCEL VD500 OBD II Diagnostic Scanner for Volkswagen

The ANCEL VD500 is a low-cost stand-alone scan tool for Volkswagen.

For a budget unit, it has many good features such as EPB, ABS, SRS, Oil Throttle Position, Adaption Brake Pad Reset, and much more.

It also is compatible with many VW models, including Golf, Jetta, Passat, Audi, and more.

The ANCEL VD500 is a good unit for anyone looking for a budget scan tool for a Passat that includes basic VAG-COM options.


OBDeleven PRO

OBDeleven Pro Edition Next Generation Professional OBD2 Bluetooth Diagnostic Scan Tool for Android and iOS (Beta)

The OBDeleven PRO works well with most of Volkswagen's VAG group cars, including the Passat B5.

It is a Bluetooth Dongle that will Pair with an Android smartphone to give codes with an app.

It can clear codes and has support for ABS, airbags, and all VAG group diagnostic trouble codes

The app does require more money to unlock some features.


Xtool Vag401

Xtool Vag401 Live Data OBD2 Car Diagnostic Scan Tool for Vw Audi Seat Skoda Vehicles

The Xtool Vag401 is a stand-alone scan tool that doesn't require a laptop or smartphone.

It works well for the Passat and scanning codes, as well as clearing them, even ABS codes.

The manual is a bit lacking but is a good buy for the price. If you need a stand-alone code scanner for your Passat, it is worth a look.


Panlong Bluetooth

Panlong Bluetooth OBD2 OBDII Car Diagnostic Scanner Check Engine Light for Android – Compatible with Torque Pro

Most anyone who has been looking for an OBDII scan tool will come across the very cheap generic OBD2 dongles.

These small units pair with a smartphone and use an app to display errors. Unlike specific ones built for VW, the generic ones will only give basic codes.

Still, they do work for basic repairs, and they are low-cost, making them ideal for those on a budget.

I have used them in a pinch, and they do work; just don't expect wonders and only basic information, no VAG-COM info.
Summary
Having a good scanner when working on your Passat will go a long way in troubleshooting and repairing the problem.
Keep in mind any OBDII scan tool should give you general codes, and VAG-COM units are made to narrow a problem better.
There are many scanner tools available those above are simply some of our favorites.
Do you have a good scanner that works well the VW vehicles? Let us know in the comments below.