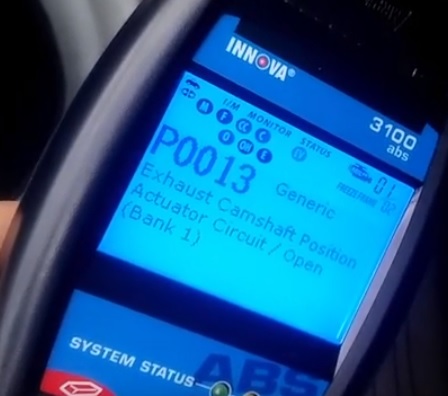 Having a good OBDII scan tool when troubleshooting a Chevy or GM vehicle is a nice thing to have.
An OBDII scan tool can point to the problem a car or truck is having.
Being able to communicate with the onboard-computer (ECM) will give invaluable data as to what the problem is.
What Is a Chevy OBDII Error Code?
When the on-board computer (ECM) detects an error with the engine or drive-train it turns on the engine light which is also a numerical code.
The code will be a number that points to the problem that has happened.
For example, a P0013 error code would point to an Exhaust Camshaft Position Open on Bank 1.
How To Read or Erase a Chevy OBDII Code
Plug in an OBDII Scan Tool to the OBDII Port
Turn on the OBDII Scan Tool
Select Read or Erase
If you have never used an OBDII scan tool before they are easy to use.
All Chevrolet cars and trucks have an OBDII port to plug into under the driver-side dashboard.
A scan tool simply plugs into the port and is ready to read and erase codes.
Many units have more features such as live data or freeze frame.
Below is some of our favorite picks for Chevy OBDII scan tools.
As always be sure to read reviews on Amazon, here, or elsewhere to be sure a unit is the right pick for you.
*This post contains affiliate links which at no cost to you allows us earn a commission on product purchases.
Our Picks for Best Chevy OBDII Scan Tools
Launch CReader 5001

LAUNCH CR619 ABS/SRS Scanner Automotive OBD2 Scanner Diagnostic Code Reader for All OBDII Cars to Check & Reset Engine ABS Airbag Warning Light Pass Emission Test

Launch makes many OBDII scan tools from low-cost budget units to high-end professional models.

The CReader 5001 is once such unit that is a mid-range scanner.

I have used one many times on a variety of Chevy cars and trucks all with good results.

It works very well finding basic engine codes with an easy to use menu system.

There are more high-end expensive models that will have more features but for basic reading and clearing codes the CReader 5001 is a good unit.


FOXWELL NT301

FOXWELL NT301 OBD2 Scanner Professional Enhanced OBDII Diagnostic Code Reader

The FOXWELL NT301 is a low-cost basic OBDII scan tool that will read and clear Chevy codes easily.

It will also work on most any other vehicles form foreign to domestic making it a good all around unit.

It does have some extend features beyond the basic OBD codes such as emission monitor.

If you are looking for a good all around budget unit the FOXWELL NT301 is worth a look.


Autel MaxiLink ML619

Autel MaxiLink ML619 CAN OBD2 Scanner Code Reader +ABS/SRS Diagnostic Scan Tool, Turns off Engine Light (MIL) and ABS/SRS Warning Lights

The Autel MaxiLink ML619 is a great OBDII scanner for reading and clearing Chevy error codes.

This includes ABS and SRS with most many scanner unable to read these extended codes.

ABS is the anti-lock braking with most tools unable to read these codes.

SRS is the transmission OBD codes and also requires a good scan tool to read.

The Autel MaxiLink ML619 is a good unit that can read not only the basic engine errors but also extended errors.


LAUNCH CRP123

LAUNCH OBD2 Scanner CRP123 Check Engine Airbag Antilock Braking Transmission Systems – Free Update

Launch makes many OBD2 scan tools with the CRP123 a nice unit.

It has a nice display and a lot of nice built-in features such as showing data streams.

The unit has a wide compatibility with many vehicles including Chevy.

It is built differently compared to many other stand-alone scan tools and looks more like a handheld video game.

There is a lot to like about the Launch CRP123 with it having no problem reading and clearing Chevy errors.

INNOVA 6100P

INNOVA 6100P SRS ABS OBD2 Scanner Car Code Reader Scan Tool Ignition Tester with Battery Alternator Test Oil Service Light Reset Car Health Monitor with Free Pouch

The INNOVA 6100P is a very good all-around OBDII scan tool that works on most any vehicle foreign and domestic.

It works great with Chevy cars and trucks and has many features standard OBDII scan tools dont have.

Extra features include reading ABS and SRS errors which most scanners are unable to read.

It can also clear the ABS (Anti-Lock Brakes) and SRS (Air-Bag error codes.
Summary
There are many good OBDII scan tools for a Chevrolet car or truck.
Most any unit will be able to read and clear basic codes.
Some units will have more features which would likely be better for a professional.
For a part time backyard mechanic a low-cost basic unit will likely be best.
Do you have a favorite OBDII scan tool? Let us know in the comment below.