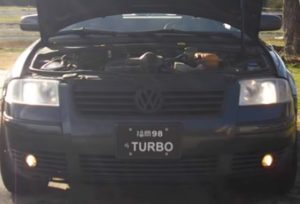 Replacing the headlight bulbs on a 2000-2004 VW Passat is not a difficult job and falls into the DIY category.
As always, if in doubt, take your car to a certified mechanic.
The process is simple enough by pulling out the bad bulb and inserting a new one.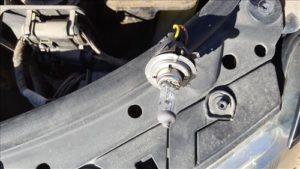 The difficulty will be how hard the old bulb is stuck in the socket due to age, weather, or other factors.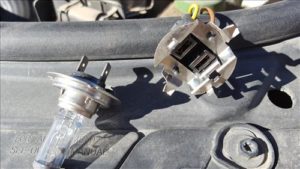 Most will have few problems and quickly able to swap out the bulb.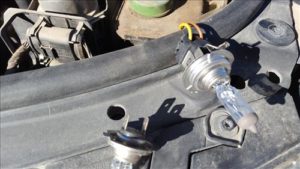 2000-2004 Volkswagen Passat Headlight Bulb Type
The 2000-2004 VW Passat uses an H7 Headlight Bulb.
Example H7 Headlight Bulb on Amazon
SYLVANIA – H7 SilverStar Ultra – High Performance Halogen Headlight Bulb, High Beam, Low Beam and Fog Replacement Bulb, Brightest Downroad with Whiter Light, Tri-Band Technology (Contains 2 Bulbs)
Getting access to the left and right bulbs are different with each method shown below.
2000-2004 VW Passat Driver Side Bulb Removal and Replacement
Remove the cover from the coolant tank blocking access.

Remove the cup holder covering the bulb assembly.

Turn the bulb assembly counterclockwise until it stops, then pull it out.

The old bulb needs to be removed. Use a small screwdriver between the bulb and the socket to get it started.

Once the bulb has come out, slightly, it will take a lot of wiggling back and forth while pulling on it to get it out.

Once the old bulb is out a new one is inserted into the socket.

After the bulb is in the socket, gently insert it back into place and turn it clockwise to lock it in.
2000-2004 VW Passat Bulb Removal Passenger Side
A vent needs to be removed to get to the passenger side bulb. Here are the steps.
Remove the first screw.

Remove the second screw.

Remove the air vent.
Summary
Removing and replacing the headlight lamps on a Volkswagen Passat is not difficult in complexity.
The difficulty will be how the car has aged, and the bulbs are stuck into place.
Certain climates will age a car differently than others which can lead to corrosion and rust, which can make them hard to get out.