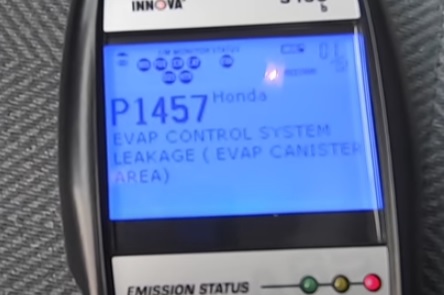 If you have a Honda Civic with a P1457 OBDII Error code, there is a problem with the Evap system.
The Evap system is mainly for smog but can also affect the engine performance and gas mileage.
What is a Honda Civic P1457 Code?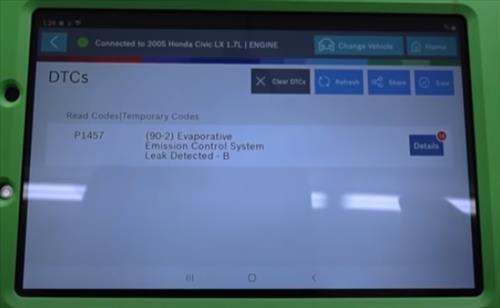 A P1457 OBDII code is an "Evaporative Emission Control System Leak Detected."
Some scan tools will list it as an "Evap Control system Leakage (Evap Canister Area)."
The error code is given when the onboard computer detects a leak in the EVAP system.
This can be a few causes, including a bad charcoal canister, purge valve, vacuum leak, gas cap, and more.
Causes and Fixes P1457 Honda Civic
Charcoal Canister


A P1457 code in a Honda Civic is usually a problem with the charcoal canister.

It is commonly located at the rear of the vehicle before the tires, but be sure to check the year of your Honda Civic.

The charcoal canister will have a solenoid on it that often goes bad and can be replaced, or the entire unit can also be replaced.

Example Honda Civic Charcoal Canister on Amazon
2013 2014 2015 2016 2017 Honda Accord Charcoal Fuel Vapor Canister EVAP 17011-T2A-A01


Purge Valve


While the purge valve will usually give another code, such as P0497, it can, in some cases, cause a P1457 code.

The purge valve is usually located on the throttle body and will have hoses going to it.

The valve opens when the vehicle is running so the vapors from the gas tank can be burnt off and not vent into the atmosphere.

When the vehicle is not running, the valve close and stops any vapors from escaping.

Gas Cap


While not common, a gas cap that is not sealing can cause Evap problems.

The Evap system was created to stop gas vapors from escaping and venting with the gas cap a part of this system.

Inspect the area around the gas cap, making sure no dirt or debris is blocking it from closing completely.

The gas cap will also have a seal that will hold the vapors inside the tank.

Summary
A Honda Civic with a P1457 OBDII code is having an issue with the Evap system.

The most common cause is the charcoal canister but it can also be other causes such as the purge valve and gas cap.

There may also be a leak in a line somewhere that is hard to find.

For hard-to-find leaks, mechanics will use a smoke machine that will feed smoke into the Evap system and come out at the leek.

Have you had an issue with a Honda Civic with a P1457 OBDII code? Let us know your thoughts below.