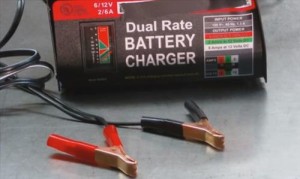 There are times when a vehicle battery has lost its charge and needs a battery charger to get it back to a charged state.
This is an easy task to do that almost any DIY person can readily get done.
Things To Know About Charging a Battery
Every battery charger has a different style and buttons to charge a battery. While they make look different, the following things are always the same.
The Red Cable goes to the Positive battery terminal.
The Black cable goes to the Negative battery terminal.
Never let the two cables touch, as they will have a charge when the battery charger is turned on.
Step By Step How To Use a Car Battery Charger With Pictures
With the battery charger off, connect the Red cable to the Positive battery terminal.

Connect the Black cable to the Negative battery terminal.
Next, Turn the battery charger on and the battery will begin to charge.
How Long Does It Take To Charge a Car battery?
How long it takes to charge the battery will depend on how dead it is and how many amps the charger can put out.
It is always best, when possible, to let a battery charge slowly since it is a chemical process that holds the charge. In today's world of quick computers, most want to charge a battery as quickly, but it is not reasonable to think this way about a car or truck 12-Volt battery.
Most dead batteries can be fully charged in 2-5 hours.
Using a slow trickle charge overnight is often the best method.
How To Tell If The Battery Is Good or Bad
A good car battery will hold a charge above 12-Volts DC.
The battery DC voltage can be checked with a multi-meter.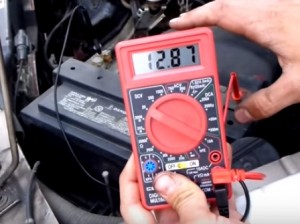 If a battery has been charged for a few hours and reads below 12-Volts DC, it is not holding a charge and needs to be replaced.
Keep in mind every time a standard vehicle battery loses its charge; it damages the battery itself. Only expensive marine deep-cell batteries can lose a charge and be recharged with little damage.
Losing its charge a few times often has little impact, but if it happens often, the battery will go bad.

Summary
Using a battery charger is not difficult but does require following a few rules.
Mainly be sure the cables are hooked up properly Red-To-Positive, and Black-To-Negative.
Also, never let the cables touch as they will have current running through them and will spark and possibly cause damage.
If in doubt, always call a certified professional as other problems may exist, such as an electrical short.
Last, if possible, use a multi-meter to see what the voltage is.
In a side-of-the-road emergency, jumper cables can be used in combination with another vehicle.