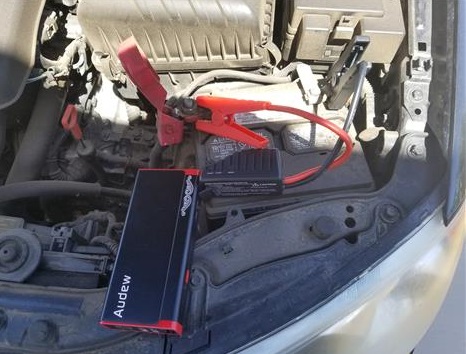 The Audew is an Emergency Power Bank with a vehicle Battery Jump Starter that is easy to store away until needed.
This makes it a good unit in many scenarios from camping to simply storing away in the trunk for an emergency battery boost.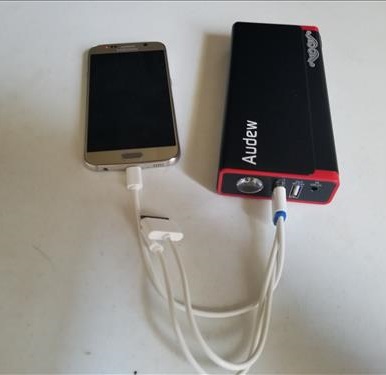 It can charge almost any device from a smartphone to a laptop along with jumper cables for a car or truck battery.
*This unit was sent to me to review with my honest opinion and results below.
Specifications and Features
Battery Capacity: 13800 mAh
Starting Current: 300 Amps
Peak Current: 600 Amps
Outputs: 5V 1A, 5V 2.1A, 12V 10A
Input: 15V 1A
Car Truck Battery Clamps
2 USB Chargers
Built-in Flashlight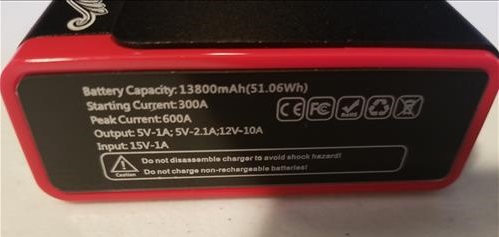 Everything comes packed into a hard case with a zipper to hold it shut.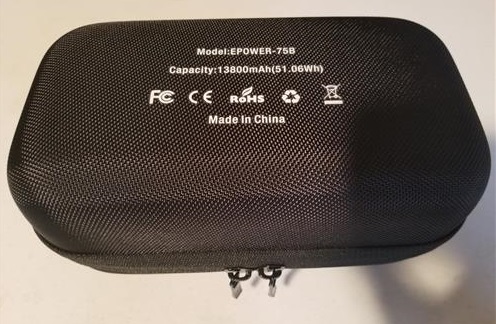 Opening the case all the components are packed neatly inside.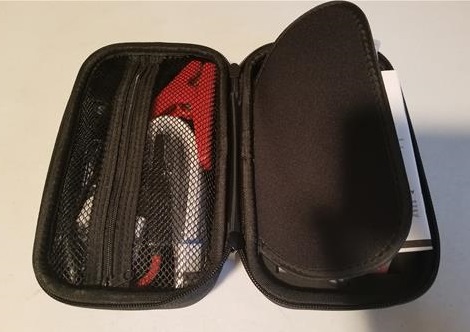 Inside the case is the power bank along with a wall charger, cigarette lighter charger and adapter, jumper cables, smartphone charging cables, and user manual.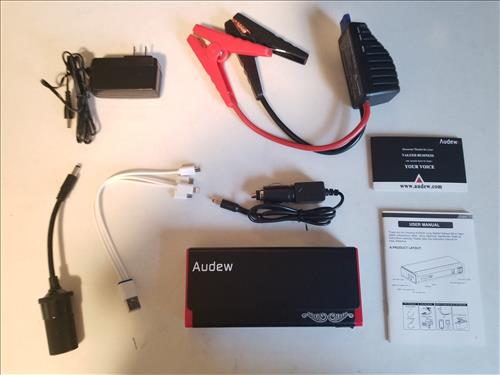 The power bank is a square unit.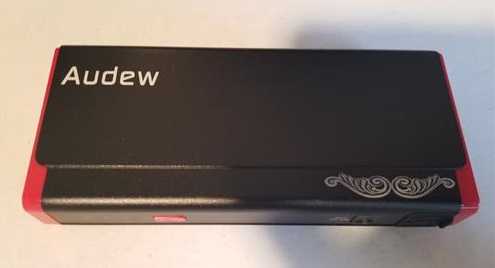 The front has the power button and LED lights to shows the charge state of the battery.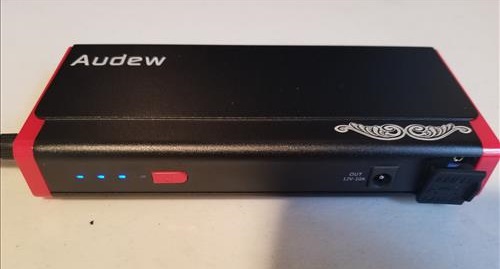 There is also 2 outputs for the jumper cables or cigarette lighter adapter.
The tip has a built-in flashlight, 2 USB charging ports, and a port to charge the power bank internal battery.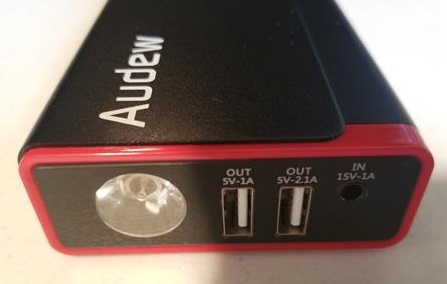 The 2 USB slots make it easy to charge a smartphone, tablet, or most any small electronics.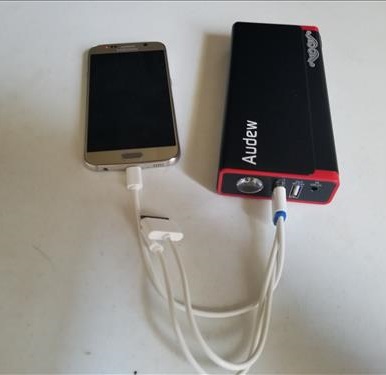 Three smartphone charging cables are included including Micro-USB for Android and Lighting for Apple devices.
Of course, most will already have a USB charging cable that can simply plug into one of the USB slots for a charge.
The vehicle battery jump starter has 2 clamps for negative and positive battery terminals.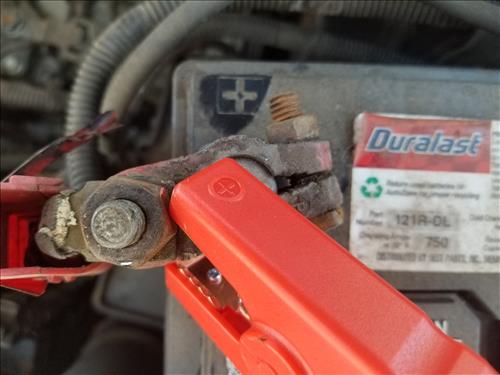 Be sure to get the terminals correct when hooking to a battery Red for Positive, and Black for the Negative battery post.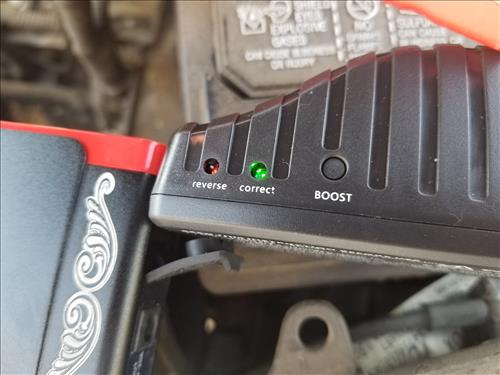 The clamps do have a safety to show they are hooked up correct along with a Boost button.
The power bank has a Peak 600 Amp load for starting a car or truck with a dead battery.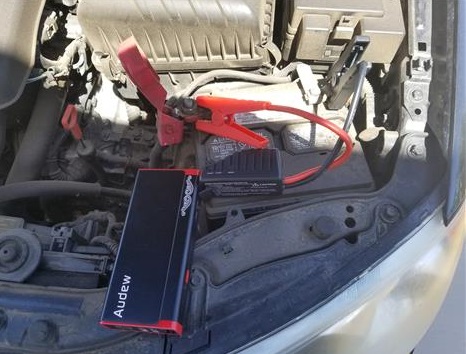 When using a power bank to start a vehicle with a dead battery I always let the bank charge the dead battery for 5-10 minutes before trying to start the car.
This may be unnecessary but does help in my opinion since the dead battery has received a charge and a lot of voltage/amps will not need to be pulled through the cable wires.
How many times it can start a car or truck with a drained battery will depend on many factors from the state of both batteries to the size of the engine.
A small car with a slightly drained battery and the Audew power bank at full charge will likely start such a car at least a few times.
A big truck with a very dead battery will likely get 1-2 jumps.
Charging the power bank periodically, or at least once a month, to keep it in a full state of charge will be a good idea for an emergency.
*This post contains affiliate links.
Upgraded Audew Car Jump Starter on Amazon
Audew Upgraded Car Jump Starters, Jump Box 2000A Peak 20000mAh Battery Charger Automotive(up to All Gas and 8.5L Diesel), 12V Battery Booster with 3 Modes LED Flashlight and Dual QC USB Ports
Summary
Power banks such as the Audew are not really thought of until there is a problem, then they come in very handy.
One nice thing I like about portable jump starters is when someone else needs a jump and wants to hook to my vehicle.
As many know new vehicle computers can be damaged if the other car after starting sends a spike of voltage back to the helping vehicle.
While I have not had any issues yet having a portable unit to help others is a nice thing to have when needed.
I am still testing the unit so far with good results and will update if anything changes.
As always be sure to read the reviews on Amazon, forums, or elsewhere to be sure a unit is a good fit for you.