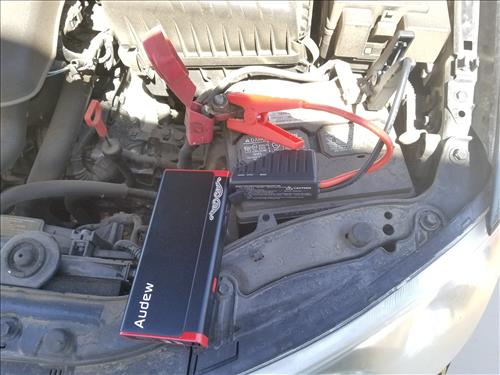 Portable car battery smart jump starters have become popular in recent years.

Smart jump starters are a great item in a emergency when a battery has lost its charge.

Modern day devices from smartphones to laptops can drain a battery leaving a user in need of a jump which makes emergency jump kits a good item to have while camping or traveling.

Many kits are also power-banks and come with ports to charge other devices via USB or other ports.

With the many units available let take a look at our picks for top kits in 2018.

In full disclosure some of these units have been sent to us from companies to review which we have done with our own honest opinion and results.

*This post contains affiliate links which at no cost to you allows us earn a commission on product purchases.

As always be sure to read reviews on Amazon, here, or elsewhere to be sure a unit is the right pick for you.

Our Picks for Best Portable Jump Starters of 2018

Audew Heavy Duty Jump Starter, Portable Car Jumper, Battery Booster 500A, Battery Jumper with Aluminum Alloy Shell & Upgraded Smart Jump Cable (Up to 5L Gas or 3L Diesel Engine)

The Audew is an Emergency Power Bank with a vehicle Battery Jump Starter that is easy to store away until needed.

This makes it a good unit in many scenarios from camping to simply storing away in the trunk for an emergency battery boost.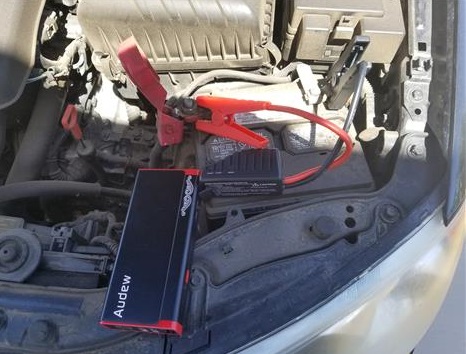 It can charge almost any device from a smartphone to a laptop along with jumper cables for a car or truck battery.

The Audew is a good all-around unit that will be nice to have when power is needed.

Read Full Review Here


…….
Jump-N-Carry JNC660 1700 Peak Amp 12-Volt Jump Starter

The Jump-N-Carry JNC660 has been available for awhile and is still a popular option.

It has no power ports to charge other devices and is only a emergency jump starter unit.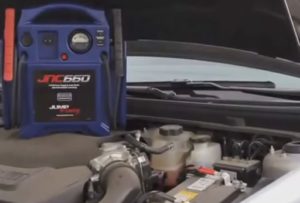 While it lacks features other models have it does do what it was built to do well, which is jump start a vehicle.

The built in battery is capable of 1700 Peak Amps.


…….
Stanley J5C09 1000 Peak Amp Jump Starter with Built in Compressor

The Stanley J5C09 has been available for a few years and is a popular unit.

Different sized units are available from 600 Amps to 1000 Amps

There is also different configurations, for example some units have a air compressor built in.


Summary
When picking a portable battery jump starter be sure to read about its features since they can differ.

Having such a quick way to jump a car is useful.

Also when it comes to new cars trying to jump anther with cables can at times be harmful to the car giving the jump.

The old way of using cables can damage modern cars computers if the vehicle giving the charge is too high.

Many car and truck alternators can also send out a high voltage surge when they first start which can possibly damaged vehicle trying to help.

A common way to control this is to immediately pull jumper cables when a vehicle starts.

Of course using a jump starter kit can go a long way in not having this problem, helping to keep your vehicle safe from damage when someone else needs a jump start.

As always be sure to read the reviews on Amazon or elsewhere to be sure a unit is a good fit for you.