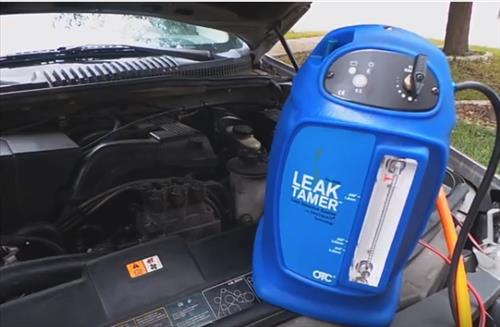 Vacuum leaks that give Evap codes can be a pain to find at times and cause an engine light to stay on.
Sometimes if the leak is small enough, it can often be ignored, but an engine light will come on, which is not good in many scenarios.
An Evap Smoke machine is an easy answer to this and makes finding any vacuum leaks an easy task.
What is a Evap Smoke Machine?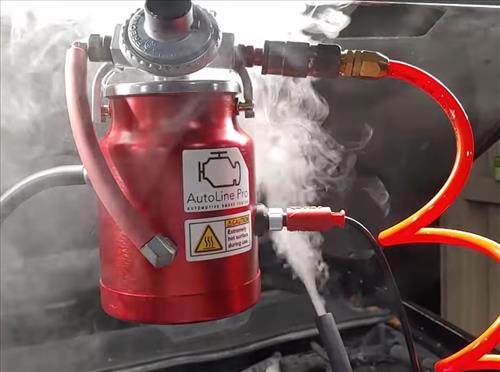 An Evap smoke machine creates smoke that can be fed into the Evap system and comes out at the leak location.
They work by feeding harmless smoke into the intake of an engine that comes out of the leak, making it visible.
Seeing the smoke come out of a leak is a quick and easy way to find and fix an Evap problem.
If you have a lot of repairs or are a busy shop, a smoke machine will make for a good purchase and save on time when looking for an Evap problem.
There is no doubt many good units, with those below simply some of our favorite options.
As always, be sure to read the reviews on Amazon, forms, or elsewhere to be sure a unit is a good fit for you.
*This post contains affiliate links.
Our Picks for Best Evap Smoke Machines or Find Vacuum Leaks 2023
Smoke-Tek

Pros

Designed specifically to find Evap Leaks
Easy to use straightforward
Budget Friendly

Cons

A professional shop may need a better unit
May not have enough pressure for very small leaks

If you are looking for a good budget unit, the Smoke-Tek is worth a look.

It is built more for a backyard-mechanic than a busy shop and works well enough.

While much cheaper compared to other units, it is a good fit for those who only need to use the machine occasionally.

If you are a do-it-yourself part-time mechanic, it is worth a look.

AUTOOL SDT-202

Pros

Good mid range unit
Simplistic design

Cons

Uses 12 volt battery cables that may drain battery after long use

The AUTOOL SDT-202 is built for a busy shop that needs a well-built machine for a lot of use.

It is a very nice unit but more than most will need, with many nice added features.

If you are a part-time mechanic, the AUTOOL SDT-202, while nice, will likely be overkill.

If you are a busy shop, the AUTOOL is worth a look.

OTC 6522 LeakTamer EVAP Smoke Diagnostic Machine

Pros

Good unit for professional shop
UV trace used with supplied black light to find very small leaks

Cons

Cost more compared to other units

The OTC 6522 Leak Tamer is a popular option that's been available for a few years.


It can find leaks as small as 0.020 inches in diameter quickly and easily.

From exhaust, intake, evap, and coolant leaks, the OTC 6522 is a good unit that won't disappoint and make finding leaks easy.

Redline Detection 95-0003B

Pros

Good unit for processional shop

The Redline Detection 95-0003B is another very nice unit to find leaks.

It uses basic baby oil to produce smoke which is a good low-cost solution compared to dyes or other products.

Redline makes it easy to quickly find a vacuum leak, usually in less than 5 minutes.
How Do You Check for EVAP Leaks?
An EVAP smoke machine is connected to a vehicle's vacuum, often at the intake manifold, and smoke is sent in.
The smoke is harmless and comes out at the leak location, which can then be sealed.
Some units can also send a dye out the leak, which can be easier in some scenarios.
How Do You Check for Smoke During an Evap Smoke Test?
Smoke EVAP machines send smoke out a leak which can be visibly seen.
Many units can also use a dye that can be seen coming out from a leak.
How Long Does a Smoke Test Take?
Once a unit is hooked up, they take very little time to send smoke out from the leak.
Most units, once set up, can take as little as 3-5 minutes to work.
How Much is a Smoke Evap Test for a Car?
This will vary and depend on location and the mechanic shop.
The average mechanic shop costs between $80 to $100 an hour but can vary.
Most mechanics will be able to run a smoke test in under an hour.
Is an EVAP Leak Serious?
Most Evap leaks will not affect the engine performance but will cause it to fail an emission test.
The engine light will also likely stay on and will not clear until it is fixed.
Often the vehicle can be driven with no issues but will need to be fixed before it can pass an emission test.
Is it OK to Drive with an EVAP Leak?
An Evap leak is usually unnoticeable except for an engine light that will come on.
If the leak is very large, the vehicle may run badly and need to be fixed before driving.
Who Makes the Best EVAP Smoke Machine?
Which unit is the best is debatable and will no-doubt vary among mechanics.
Each unit has its own features that will need to fit a user along with cost.
A part-time DIY mechanic will likely only need a low-cost unit with basic features.
A full-time professional mechanic will likely need a very good durable unit with many features that last many years.
Summary
Having an Evap Smoke machine is a nice thing to have when it comes to finding and fixing an Evap code from an OBDII scan tool.
They are simple to use and send smoke out the leak, making it clearly visible where the leak is located.
Many can also be used to find coolant leaks and other hard-to-find holes by sending smoke into the system.