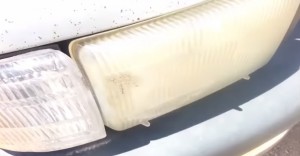 A video is at the bottom of the page for a video walk through.

Replacing a headlight bulb on a 1994-2000 Dodge truck is easy to do and falls in the DIY category.
If you have never seen these headlight bulbs before they are small bulbs compared to the bulbs of the past Pre-1990s.
In the old days the entire headlight assembly was removed from the front of a vehicle.
These new style bulbs are pulled in and out of a socket that is snapped into place by turning it on a notch.
If the truck has been sitting in a garage its whole life than they the bulb socket is easily turned off and on.
Since most have not been in a garage but outside in the weather they require a bit of brute force to get a bulb socket off and back on.
Don't use to much force as the holder is plastic.

Low-Cost Headlight Bulbs on Amazon
Mega Racer (Box of 2) 9007-HB5 Super White (High/Low Beam) Xenon Halogen 5000K Headlight Light Bulb Head Lamp – Hi/Lo Stock 12V Car


Performance Headlight Bulbs Listed on Amazon
SYLVANIA – 9007 SilverStar Ultra – High Performance Halogen Headlight Bulb, High Beam, Low Beam and Fog Replacement Bulb, Brightest Downroad with Whiter Light, Tri-Band Technology (Contains 2 Bulbs)


Steps To Replacing the Headlight Bulb on a 1994–2001 Dodge Ram Truck
Open the hood and locate the headlight bulb.




The gray plastic holder needs to be turned to the left counter clockwise to come off.




The entire assembly will come out. A clip will hold the bulb in the socket and will need to be held back while the bulb is pulled out.
The new bulb simply goes in where the old bulb came out.

After inserting the new bulb the gray holder need to be turned back into place by tuning it to the right clockwise. The tabs need to be aligned correctly to get it to turn into place.