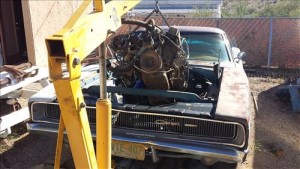 I have a 1968 Dodge Charger that has been sitting for some time. I really want to get it going but have been tied up with other things.
The Charger while complete has been sitting in storage since 1983 so most everything needs to be rebuilt.
Tearing the Charger down to its frame and doing a ground up restoration would be ideal but I need to keep it cheap right now.
A few years from now I likely will do a ground up restoration but for now simply want to get it mobile and drive-able.
The shape is not to bad for sitting so many years but does have some rust. It has been in the Arizona desert its whole life so things dont rust as quick as other regions.
First I want to get a motor in it and running and the brakes working.
The front brakes do have 11″ inch drum brakes which I am still debating on using or replacing.
The main goal of this project is to get the Charger running on the least amount of money possible using a donor vehicle.
It does have a 383 engine but it needs a complete rebuild and since it is the original engine is what I will do eventually.
For the meanwhile I decided to use a 1975 Dodge truck as donor parts to get the Charger at least mobile.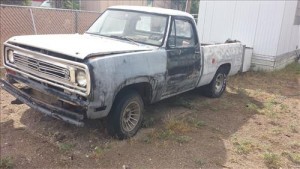 The truck has a small block 360 with a 650 Cater AFB and headers, so while not the monster the 383 is. It will be a good temporary engine.
The first day I spent checking the truck engine out and getting it running since it has been sitting quite some time.
After firing it up it was obvious the Carter AFB needed rebuilt so I ordered a rebuild Kit. After rebuilding the carburetor it ran great.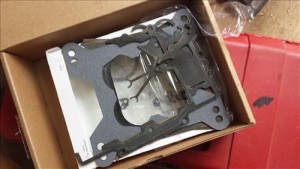 Got the engine pulled and began to drop it into the Charger.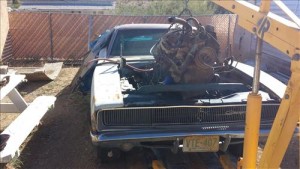 A problem came up straight away as the steering bar was in the way of the oil pan.

After reading online I realized the oil pan was different on a truck than a car so I had to order a middle sump oil pan and a new oil pickup.
Rain and other projects have delayed me but I will continue this project as getting the old Charger running again will be sweet.
I am starting to question dropping the 360 into it as it is not as quick a solution as I would of hoped for but plan on continuing.
If I had to do it all over again I likely would have bought a old motor home and dropped in a 440 from one.
Old motor homes are cheap and the old Dodge ones all came with a 440.
I will keep updating my progress as someone else may find something I am doing useful.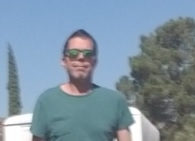 Latest posts by Bob Thomas
(see all)