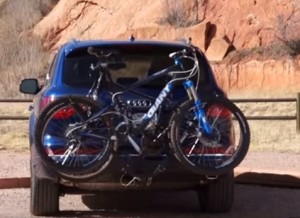 Getting the best bike rack carrier for your SUV is not difficult, especially with the many available.
There are three types of bike racks Roof Racks, Hitch Mount Racks, and Trunk Mounted.
Types of SUV Bike Racks
Roof Racks


Roof racks are a good option but do have a few negatives.

First, they add height to an SUV, making them all but impossible to drive into a garage or other low-height areas.

Second, it can be difficult to load a bike up on the roof unless you are a tall person. They also require more strength to lift a bike into place on a roof and lock it down.

This will be less of a problem for an SUV that is lower to the ground. They also don't require a hitch.

The Apex 1-Bike is an SUV bike rack that carries a bike upright.

It is a good economical SUV bike rack that does what it is supposed to, carrying a bike from point A to point B.


Trunk Mounted


Trunk-mounted bike racks often require the least amount of work.

They don't require lifting a bike high-up as a roof rack does.

They will block access to the trunk. If getting in and out of the trunk is important, then other options would be best.

No hitch is required, so they are good for having a bike rack for SUVs without a hitch.

Hollywood Racks makes many good heavy-duty units.

Up to four bikes can be loaded up and strapped into place.


Hitch Mount Racks


If you have a hitch, then hitch-mounted racks are a good option.

They do add to the overall length of a vehicle which is not a problem for most.

Most can lean away from an SUV, which allows for trunk access. When a unit is leaned out to get into a trunk, it can be difficult to push it back into place when many bikes are loaded up.

This unit from Allen Sports is a good hitch-mounted model and can carry up to four bikes.
Summary
Setting up an SUV to carry a bike or multiple bikes is a straightforward process that simply involves finding the right style for you.
If your SUV doesn't have a receiver hitch, then a roof or trunk unit may be best. A hitch can be installed but will add to the cost.
Lifting the bike up into place should be considered along with driving while bikes are attached.
Be sure to read the reviews on Amazon, forums, here, or elsewhere to get the best unit for you.