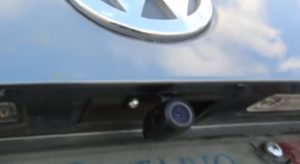 Having a backup camera that also has night vision can go a long way to improve safety while driving.
This is especially true for vans, RVs, trucks with campers, but any vehicle can benefit from seeing a clear view behind them.
There are many units available with some of our favorite picks below.
As always be sure to read the reviews on Amazon or elsewhere to be sure a unit is a good fit for you.
*This post contains affiliate links.
Our Picks for Best Backup Camera with Night Vision
Pyle PLCM7500

Rear View Backup Car Camera – Screen Monitor System w/ Parking and Reverse Assist Safety Distance Scale Lines, Waterproof & Night Vision, 7″ LCD video Color Display for Vehicles – Pyle PLCM7500

The Pyle PLCM7500 is a low-cost option that for the price does a very good job.

The kit comes with a 7 inch LCD monitor that connects to the camera with standard video RCA jacks.

The camera mounts at the rear license plate and adjusted for the best angle once everything is hooked up.

The install is easy enough with some minimal technical skills.

If your on a budget and needing a backup camera with night vision than the Pyle PLCM7500 is worth a look.


AUTO-VOX

AUTO-VOX Cam 6 Rear Reverse Backup Camera License Plate Parking Rearview System of 170-Degree Wide Angle for Cars Truck & RV with Waterproof Night Vision

For those who already have a monitor this kit from AUTO-VOX is extremely low cost and works very well for the money.

It comes with the waterproof night vision camera and cabling, no monitor is included.

The camera mounts at the rear license plate and feeds video through a RCA cable and jacks.


Podofo Mirror Monitor

Podofo 4.3″ Car TFT LCD Mirror Monitor Wireless Reverse Car Rear View Backup Camera Kit (Black)

For those who dont like to run wires wireless units are also available.

This kit from Podofo is one such wireless kit that send a picture to a small 4.3 inch TFT display.

Keep in ind wireless video feeds are prone to interference and there can often be a bit of static.

With that said they do work well for many and a cable can always be run if needed.


VECLESUS WM1

VECLESUS WM1 Wireless Backup Camera Kit with Stable Digital Signal, Super Night Vision, 4.3" Wireless Monitor& Reversing Camera for Truck, SUV, Van, Camping Car, Pickup, Truck Camper.

VECLESUS WM1 makes this wireless backup kit that can be installed in most any vehicle.

The kit includes a small 4.3" wireless monitor that sits on the dashboard to give a camera rear-view.

The unit also has night vision built in to give the best images possible while driving in the dark.
Summary
Backup cameras especially with night vision are a good fit for those who have problems seeing behind them while backing up.
Many vehicles such as vans have a limited view with standard mirrors leaving much to be desired .
A camera for rear viewing is a nice feature that can benefit anyone who has such problems with their car or truck.
Installation is easy with the cameras usually mounted at the rear license plate and a monitor mounted at the best location for the driver.
Installing requires minimal technical skills and is a straight forward process with basic mechanical tools.
While most will find a kit simple to hook up be sure to call a friend or hire a professional if in doubt.