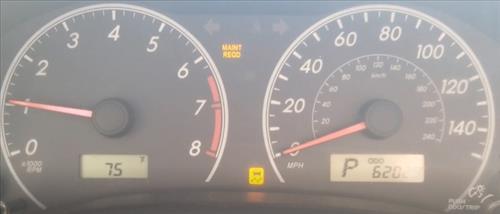 If the Maintenance Required (MAINT REQD) Light comes on in your Toyota Corolla dashboard it is simple enough to reset.
The Maintenance Light usually turns on to remind you its time to change the oil.
The car does not know if the oil has been changed, it is a simply a reminder light that a mechanic will reset after changing the oil or other maintenance.
Below are the steps to reset the light on a 2012 Toyota Corolla which should be the same for 2009-2014 Corollas.
There is a video at the bottom of the page for a step-by-step walk though if needed.
How To Reset the Maintenance Required Light (2009-2014) Toyota Corolla
Start the car and locate the small odometer display.

Press the odometer button cycling through until you see Trip A in the small display.




Next, turn the ignition "Off".

Press and hold the Trip Odometer Reset button, and turn the ignition switch to the "On" position. (Do not start the car)

Continue to hold down the Trip Odometer Reset button for 2-3 seconds until "000000" MILES appears on the display.

Turn the ignition Off, then start car and and the maintenance light turns off.
Summary
Resetting the Maintenance Required Light is easy enough to do and is usually done by a mechanic after an oil change.

The car does can not detect if the oil has been changed so the light can be reset without changing the oil.
Of course, this is not recommend since old dirty oil will shorten the life of the car.
https://youtu.be/yYY_6xeJ6F8