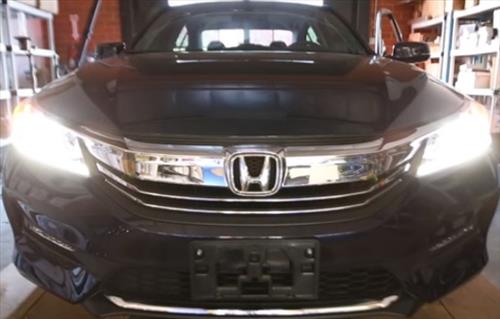 Replacing the headlight bulb in a 2013-2017 Honda Accord is an easy task that most car owners can do.
No tools are needed; only a new bulb needs to be bought.
2013-2017 Honda Accord Headlight Bulb Type
High Beam 9005 Headlight Bulb
Low Beam H11 Headlight Bulb
Example 9005 Headlight Bulb Amazon
Philips Automotive Lighting 9005 CrystalVision Ultra Upgrade Bright White Headlight Bulb


Example H11 Headlight Bulb Amazon
SYLVANIA – H11 XtraVision – High Performance Halogen Headlight Bulb

The High-Beam is inside bulb, of the headlight assembly.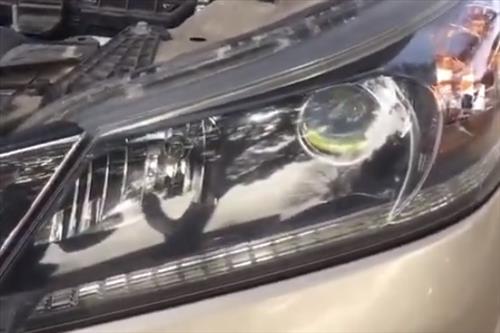 The Low-Beam is the outer right side bulb; behind the headlight assembly.
*When replacing a headlight bulb, do not touch the bulb itself, as the small amount of oil from your hand will create a hot spot that burns the bulb quicker.
How To Replace the Headlight Bulb 2013-2017 Honda Accord
Open the hood and locate the Headlight Bulb behind the assembly.




Remove the wiring connector.




Twist the old bulb Counterclockwise and remove it.




Put the new bulb in, turning it Clockwise.

Attach the wiring connector and test it.
Summary
Replacing the headlight is usually an easy job but if in doubt, be sure to call a professional.
When replacing any bulb, be sure not to touch the bulb itself, or it will create a hot spot that shortens the life of the bulb.
The inner headlight is the high beam which uses a 9005.
The outer headlight is the low beam bulb which uses an H11.
The bulbs can be bought at any auto part stores online on Amazon, eBay, or other stores.
Besides the standard units, there are also high-performance bulbs and standard bulbs that can replace the old bad ones.
The high-performance bulbs work much better, giving out light but do cost more.
While replacing the lights is often done by many car owners, if in doubt, be sure to take your vehicle to a professional.
Have you had any issues replacing the headlight bulbs in the 2013-2017 Honda Accord? Let us know your thoughts below.