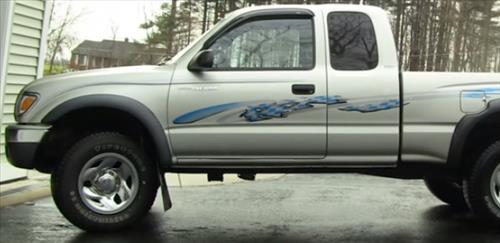 Replacing the headlight bulb on a 2001-2004 Toyota Tacoma is an easy task that falls in the DIY category.


As always, if in doubt, take your vehicle to a professional.
2001-2004 Toyota Tacoma Headlight Bulb Type
No tools are needed when replacing the headlight bulb. Tools are only needed if there is corrosion on the vehicle.
Example 2001-2004 Toyota Tacoma Headlight Bulb on Amazon
SYLVANIA – 9003 SilverStar Ultra – High Performance Halogen Headlight Bulb

How to Replace Headlight Bulb 2001-2004 Toyota Tacoma
Open the hood and locate the bulb behind the headlight assembly.

Unplug the electrical connector.

Remove the rubber water seal boot.

Remove the clip holding the bulb in place by pushing down and pushing it to the side.

Remove the headlight bulb, which will pull out.

Insert the new bulb.

Reattach the waterproof rubber boot.

Attach the electrical plug and test the light.
Summary
It is not difficult to replace the headlight bulb on a 2001-2004 Toyota Tacoma but call a knowledgeable friend or professional if in doubt.
The 2001-2004 Tacoma uses a 9003 headlight light bulb that can be bought at any auto parts store or online.
There are also many bulb brands, with some having extra brightness and some rated to last longer.
Any of the 9003 bulbs will work with which brand to get a personal option.
It is usually an easy job to replace the bulb on a Tacoma unless age or the weather has caused issues.
Harsh climates age vehicles differently which can affect parts being rusted or other possible problems.
A vehicle that was in an accident may also have some type of unforeseen problem.
Remember not to touch the bulb itself with your hands as it will cause a hot spot that burns the bulb out faster than usual.
Have you had any issues replacing the headlight bulb? Let us know your thoughts below.