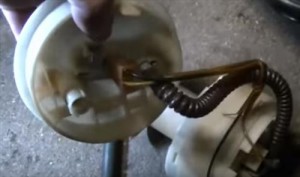 Replacing the fuel pump on a Volkswagen Passat (1999-2005) is a job that most DIY mechanics can do.
First of all before replacing the fuel pump be sure it is bad by following our step by step guide to see if it is bad here.
Once you know it is bad and needs replacing keep in mind a special tool is supposed to be used to get the old one out and new one in.
I have changed one without the special tool but I did almost break it and it took 2-3 hours to finally get it in place right.
Here is the special tool on Amazon
Baum Tools 3307 Volkswagen and Audi Gas Fuel Pump Removal and Installation Wrench
The next Passat I do I would definitely order the tool. Depending on how much skill you have buying the tool while suggested it can be done without it depending on your skill level.
Here is the Fuel Pump on Amazon
Bosch 69733 Original Equipment Replacement Electric Fuel Pump
Steps to Replacing a Fuel Pump on a Volkswagen Passat (1999-2005)
Disconnect the battery before removing the fuel pump. Gas is highly flammable so be sure to take safety precautions.
The fuel pump is located in the trunk and needs three Phillips screws to be removed from the cover.

The power harness needs to be removed.

The hoses need to be removed.

The clamps that hold them place sometimes need to be replaced since they can be a pain to remove and often need to be cut out.


There is an arrow marking the placement of the fuel pump, be sure to mark were it is pointing.

A large plastic ring holds it in place and is removed by turning it counter-clockwise. A screw driver or similar usually is needed to tap on it and loosen it.

The top part of the fuel pump assembly will come out but the bottom part will still be stuck inside the tank.

The next step is to get the bottom half out of the tank. This is done by turning it to the left.




Putting the new fuel pump in is the reverse of taking it out.


One problem is the new bottom half of the fuel pump can be difficult to get into place.

This is where the special installation tool comes in handy if you have one. If you don't it is a good idea to order one since the new unit can be easily broken if not inserted correctly.
Summary
Installing a fuel pump into a Passat is a job that most backyard mechanics can do. The most difficult part is getting the new unit back into place.
Hopefully, this article help you out if you do have install one.
As always be careful since gas is involved which is highly flammable. Always follow safety procedures when dealing with any flammable substance.