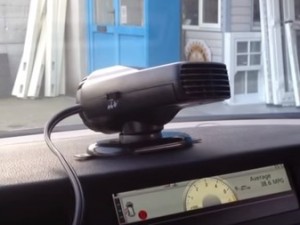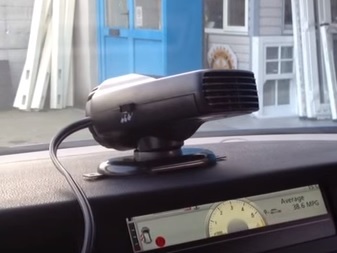 12 volt electric car heaters are an option when it comes to helping to heat your vehicle.

Notice I say help to heat.

12 Volt heaters do not have enough power output to heat a car or truck the way a standard heater does.

In fact depending how cold the place you live in is they might not even seem to work at all.

Most portable car heaters can only put out around 150-180 Watts of heat.

Compare this to a hair blow dryer which can put out 1200-1500 Watts and you can see not much is put out.

With that said they can help or supplement heat, but relying on one to completely heat a vehicle would be unrealistic.

Are there better options?
This depends on what you are trying to accomplish.

For example car seat heaters are good at warming up your body but won't do much for defrosting a window.

Since most portable car heaters don't put out much heat to defrost windows quickly. I would suggest going with the car seat heater
to simply help your body stay warm.

Using a small gas heater is a good option that many use since they put out a lot of heat and don't rely on a vehicles 12 volt system.

The Mr. Heater MH4B Little Buddy
is one such gas unit that is safe to use indoors.

Mr. Heater Little Buddy is a good alternative to 12 volt systems.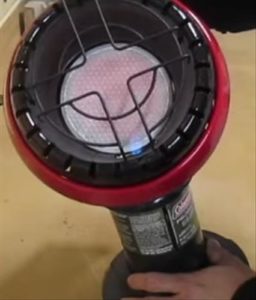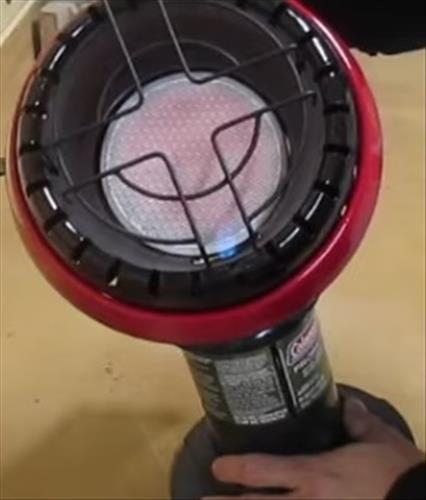 It has tip over protection, low oxygen turn off sensor, and easy screw on bottles.

Of course this is a personal option and reading reviews on Amazon or other places is the best option for getting a car heater that works for you.

Cigarette Lighter Fuse and Wiring.
Depending on your car the cigarette lighter circuit may not be able to supply enough power to run a car heater.

Some of these portable heaters need a 15 Amp circuit to run and may blow the cigarette lighter fuse.

Again this depends on the heater with a seat heater needing as low as 3.5 amps.

Be sure to read how many amps is needed to run the small heating device.

As always be sure to read reviews on Amazon, forums, or elsewhere to be sure a unit is the right pick for you.

*This post contains affiliate links which at no cost to you allows us earn a commission on product purchases.

Our Picks for 12 Volt Portable Car Heaters

Wagan Soft Velour 12V Heated Seat Cushion Ultra Plush with High/Low/Off Temperature Control (Black)–IN9438

A seat cushion heater is a good option if you simply want to help you body stay warm.

The Wagan 12 Volt seat heater is a popular option with many and works well enough.

It will not warm the entire car but have a low amp draw compared to other vehicle heaters.

These types of heaters are a good option for helping you stay warm in the winter when in your car or truck.


…….
Car Heater, Portable 60 Seconds Fast Heating Quickly Defrosts Defogger 12V 150W Auto Ceramic Heater Cooling Fan 3-Outlet Plug In Cig Lighter (Red)

This type of heater is what most think of when it comes to a portable window defroster.

A small unit like this will not heat the way many want and puts out about as much heat as a cup of coffee.

Units like this will help you to warm your hands up, help defrost a window, and add to existing heat but dont expect it to do wonders.


…….
Portable Car Heater, STYLOOC 60 Seconds Fast Heating Defrost Defogger Demister Vehicle Heat Cooling Fan 12V 150W Auto Ceramic Heater 3-Outlet Plug In Cigarette Lighter(Black)

This small heater is built to defrost windows but again dont expect wonders.

It puts out 150 watts and like most units gets power from the cigarette lighter.

If you live in a mild temperature climate it may do the trick. In a very cold climate it may barley be noticeable.


Summary
A cars electrical system was never designed to handle large output of power that producing heat requires.

For this reason keep in mind that these small heating devices will not put out as much heat as many want.

With that in said they can help take the edge off.

Another thing to keep in mind is not to leave one of these devices plugged into a vehicles cigarette lighter. Some cars will turn power off to the lighter while other dont. If the power does not get shut off they will drain your battery.