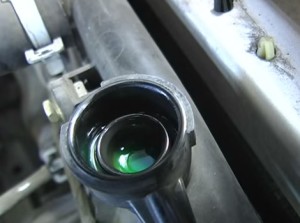 Flushing a radiator is an easy task for the DIY Backyard Mechanic.
Precaution should be taken mainly that the engine must be cold.
Never open a radiator cap on a hot engine as it will have built up pressure that could explode out possibly causing injury.
Since radiator fluid is damaging to the environment be sure to dispose of it properly.
Also, be sure not to leave open buckets of radiator fluid around pets, as it is poison to them and they may try to drink it.
Tools Needed for Flushing a Coolant System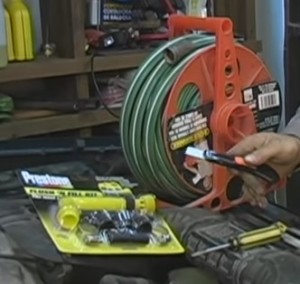 Screwdriver
Utility Knife
A Standard Garden Hose
Antifreeze
A flush kit will be needed in this example we are using the popular Preston Kit.
Prestone AF-KIT Flush 'N Fill Kit
Antifreeze is also needed when refilling the vehicle with fluid.
Locate the Inlet Heater Hose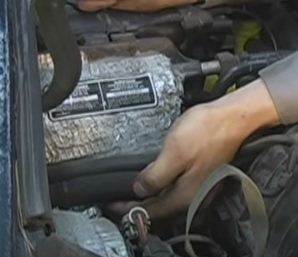 Two hoses go to the heater core through the firewall. The Inlet hose is used to flush the radiator.
One hose lets fluid flow in (Inlet) and one hose lets fluid flow out.
Sometimes they are marked on the firewall. If there is no marking follow the hoses, the Inlet hose will go to the top of the engine. The Outlet hose will go to the bottom of the water pump.
Connecting a Coolant Flush Kit
A T-Unit will be in the kit and is connected at the Inlet hose.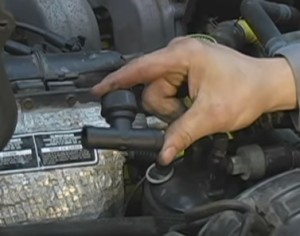 A flush kit comes with different sized T-units to match the Inlet hose on your vehicle.
Cut the Inlet hose so that the T-unit can be centered into it.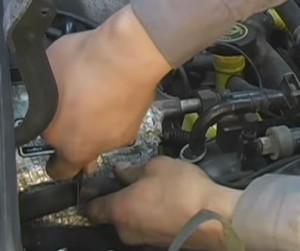 Slide the hose clamps onto both ends.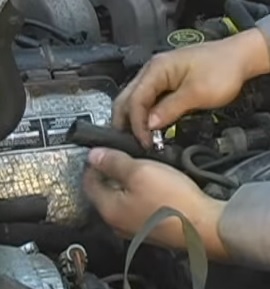 Insert the T-Unit into both ends of the hose.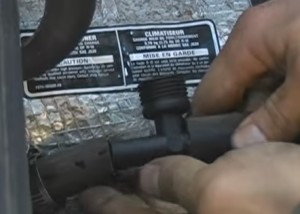 Center the T-Unit so it points up and tighten the hose clamps.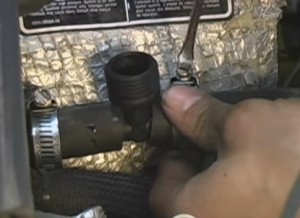 A cap is included in the kit that screws on after the radiator has been flushed.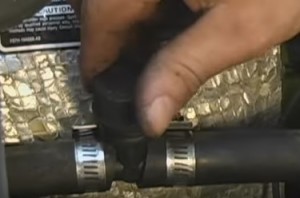 Using the Kit Coolant Flush Kit
Take a garden hose and connect it to the top of the T-Unit.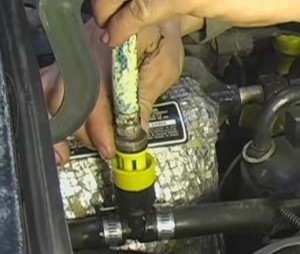 The radiator cap is where fluid will come out. Use the attachments to feed the old coolant into a bucket.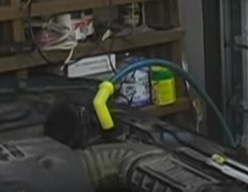 Turn the garden hose ON to start flushing the vehicles coolant system.
Start the vehicle and set the heater to High.
The old fluid will begin to run out. Five minutes of flushing is good for most cars and trucks.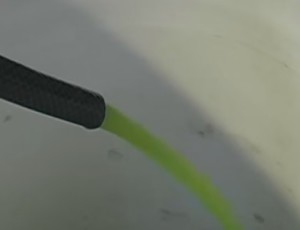 Refill the vehicle coolant system and close it up.
Summary
The above is a basic step-by-step guide to using a flush kit to clean up a car or trucks coolant system and radiator.
Always remember to use safety precautions when doing any mechanical work.
Since the location of parts on vehicles often defer it is a good idea to get a manual on your car or truck for a quick reference.