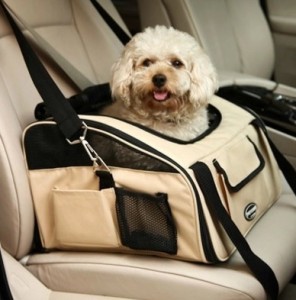 No one likes to leave behind their best friend when they travel. Even a short trip to the store can give a dog a boost in energy and happiness.

So what are good dog travel accessories?

Below We Have listed Our Picks For Best Car Travel Accessories for Dogs.

1…
Dogs love to jump into the front seat and even onto a driver when moving.

Although they dont mean any harm this can be dangerous as it can distract a driver and possibly interact with the vehicles controls.

A cheap option is to put up a backseat pet barrier that will keep them in the backseat.


2…
We love our dogs but many can leave hair on seats and cushions.

A quick and easy solution is a dog seat cover for your car, truck, or SUV.

A pre-made dog seat cover is much more better built than a simple blanket. It will be water proof, padded,built with durability, and easy to clean.


3…
To help protect your dog when traveling booster seats are available in different sizes.

A dog booster seats helps prevent them from being tossed around when a vehicle is traveling.

This is especially true for small dogs under 20 lb who are more easily tossed about.