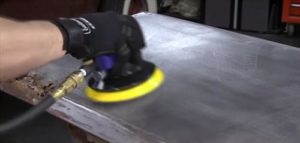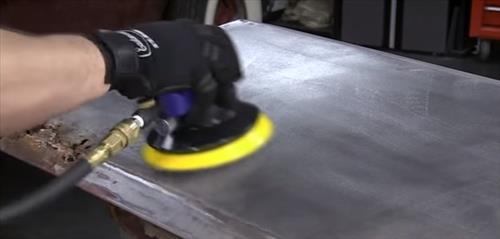 Having the right tools goes a long way in doing auto body repair and getting he job done quickly and right.

One of the more common tools is the Random DA (Dual Action) sander.

A DA spins and is moved about sanding off paint or rouging in bondo on a car or truck.

Most any professional will use only air tools but electric units can also be used for home DIYers.

Here is our picks for good dual action orbital sanders.

As always be sure to read the reviews in Amazon or elsewhere to be sure a unit is a good fit for you.

…….
Ingersoll-Rand 4151-HL Ultra Duty 6-Inch Vacuum Ready Random Orbital Sander with Hook and Loop Pad


Ingersoll-Rand makes this small hand orbital sander that is air powered.

It is light weights at two pounds and has a adjustable speed lever which can spin up-to 12,000 RPM.

A vacuum attachment is also on the unit if needed to collect dust.

6 inch round DA sand paper easily sticks to the pad and can be removed quickly.

It uses 8 CFM air which makes it work with low powered air compressors along with a 1/4 inch hose inlet.

The Ingersoll-Rand 4151 is a nice orbital that is smooth and with its adjustable speed is a nice unit.

I have used this unit and after many hours sanding it runs very well and fits into your hand almost ergonomically.

The low vibration of the unit wont leave your hand tingling from vibrations after using it for many hours.

It is a low-to-mid range unit that is perfect for the DIY home user or as a backup in a professional shop.


…….
ATD Tools 2088 6″ Random Orbital Palm Sander


For those on a budget the ATD Tools 2088 is a good option.

It uses air to operate and a 6 inch pad with a 1/4 inch hose attachment.

Variable speed control is built-in which can spin up-to 10,000 RPMs.

At 1.65 pounds it is also light and easy to move about.

The ATD Tools 2088 is a low cost unit that is good for the home DIYer.


…….
Metabo SXE 450 TurboTec 350 Watt Electronic Disc Sander


The Metabo SXE 450 is a high powered sander that has RPMs from 8400-22000.

It is and electric unit powered by 110 Volts AC.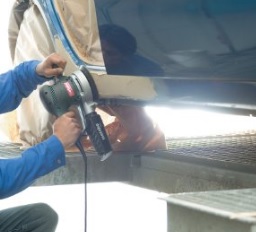 A professional will not use a electric unit to sand and do body work, but if you have no compressor and need to use electric the Metabo SXE 450 with its variable speed is a good unit.


Summary
Choosing the right DA like any tool needs to fit your other equipment such as a air compressor.

If you dont have a air compressor than depending on how big the job is you may want to invest in one.

Electric units can also be used but mainly for the weekend warrior DIY jobs.

Electric vs Air Powered
Air powered orbital sander also called Pneumatic are the most used sanding tools, especially in large auto body shops.

Of course air tools require a air compressor to keep it running which depends on your setup and whats available.

Electric powered orbital sanders have the benefit of not needing a air compressor, but since they use a motor can get hot and may need a short break occasionally to not burn up the motor.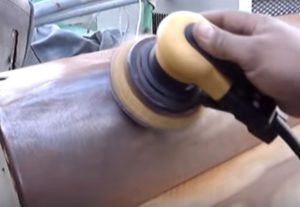 Personally I prefer air tools has they are quieter, powerful, have adjustable speeds, and last a long time.

Pros of air tools
Faster
More power
Adjustable
Usually Lighter
Usually cheaper

Cons of air tools
Needs a compressor
Has a air line attached
Not portable


Pros of Electric
Highly portable
Easy to plug in and get started quickly
No air compressor needed

Cons of Electric
Get hot from constant use
Dont generally last as long
May not have variably speed